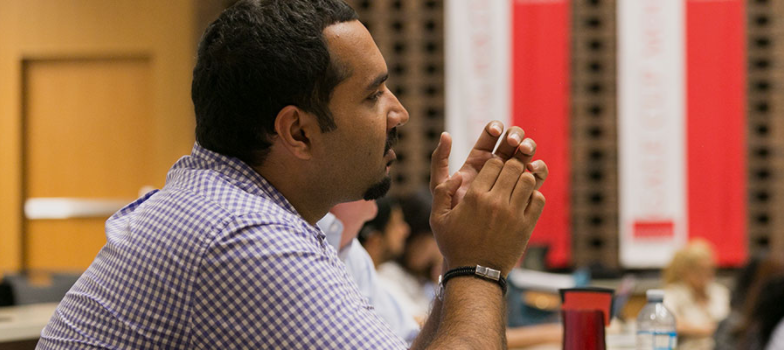 OsgoodePD's Internship Program is an amazing opportunity to bridge the gap between study and the practice of law with hands on experience. These internships are an opportunity for full-time, internationally trained or internationally educated, Professional LLM students to learn what it's like working in Canadian law firms, financial institutions, government offices, and in-house legal departments as a part of their graduate studies.
Lawyers always say that the study of law bears little resemblance to the practice of law. Experiential training has become a key priority in potential reforms of both legal education and licensing. OsgoodePD is committed to continuing these internships, as they provide valuable experiential opportunities for students to practice their legal training in Canadian institutions they may not otherwise have access to.
OsgoodePD's internships are also an unique opportunity for the Canadian legal community to access the diverse talent and experience internationally trained lawyers and law students bring, and also, an opportunity for organizations to access individuals that may not fit into the standard recruitment cycles. Last year's interns were a mix of Canadians trained abroad, along with students with backgrounds from Nigeria, Mexico, China, Ethiopia, Brazil, Russia, and India. Some came with non-legal work experience, some were seasoned lawyers looking for a change, and some participants were previously partners at firms in their home jurisdictions. What all intern participants had in common was a passion and drive to further their careers and gain firsthand experience in the Canadian legal environment.
Many of OsgoodePD students seek an LLM to either further their careers, to switch their areas of practice, or to establish themselves as experts. Our internship program allows students to compare and contrast their past experiences from their home jurisdictions to Canada, to contrast public sector work and private sector work, to engage in new and different legal software and technologies, and to develop passions in areas of law they did not anticipate loving.
Intern Gabriel Leung, originally thought he would pursue a legal career in civil litigation after previously volunteering with a pro bono clinic. Through his involvement in the internship program, Gabriel was able to build a stronger relationship and mutual trust with clients and develop a greater appreciation for family law – a path he continued to pursue as an articling student. Ana Peniche Crowley, an experienced lawyer from Mexico, felt that through OsgoodePD's internship program she was able to work outside of her comfort zone, and that the program eradicated beliefs she had previously held about the rigidity and formality of Canadian law firms.
Full-time Professional LLM students have access to a wealth of career resources in preparation for applying for internships and other experiential opportunities. Iyesogie Nosa-Ehima, a Ministry of the Attorney General intern, valued OsgoodePD's workshops and mock interviews organized to teach students how to prepare for an interview and make a good first impression. Iyesogie commented that through one-on-one counseling sessions she was able to understand the peculiarities of an acceptable Canadian resume, which is completely opposite to a Nigerian-styled resume.
Specific LLM course offerings also allow interns to bridge their legal studies to the practice of law. Professional Responsibility is a subject that all NCA candidates are required to complete and have competence in. Having taken Professional Responsibility within their studies, full-time professional LLM students were able to rely on their knowledge of privilege or confidentiality and apply it to the work and clients of their host organizations.
Almost every OsgoodePD intern mentions how vital the Legal Research and Writing course (available to all Professional LLM students) was to the practice of law. One intern specifically recommended that all students entering the Full-Time Professional LLM Program take Legal Research and Writing even if it's not required, and another remarked on how the legal research skills learned throughout the program were often put into practice in drafting opinions, memos, and legal research at host organizations.
At OsgoodePD, we are committed to continuation and expansion of our LLM Internships. We see the internship program as an opportunity to show the Canadian legal community the amazing, internationally trained candidates that can be an asset to their organizations. The internship program also provides internationally trained candidates an opportunity to explore their interests and legal studies through meaningful experiential training in the Canadian legal market. The OsgoodePD internship program is one way we can ensure that the study of law properly prepares students for success in the practice of law.
If you are a student of OsgoodePD's Full-time Professional LLM program and would like more information on internships or are wanting to enrol, please email Michael Tam.
---
MICHAEL TAM is Program Lawyer of Professional Graduate & International Programs at Osgoode Professional Development.
---