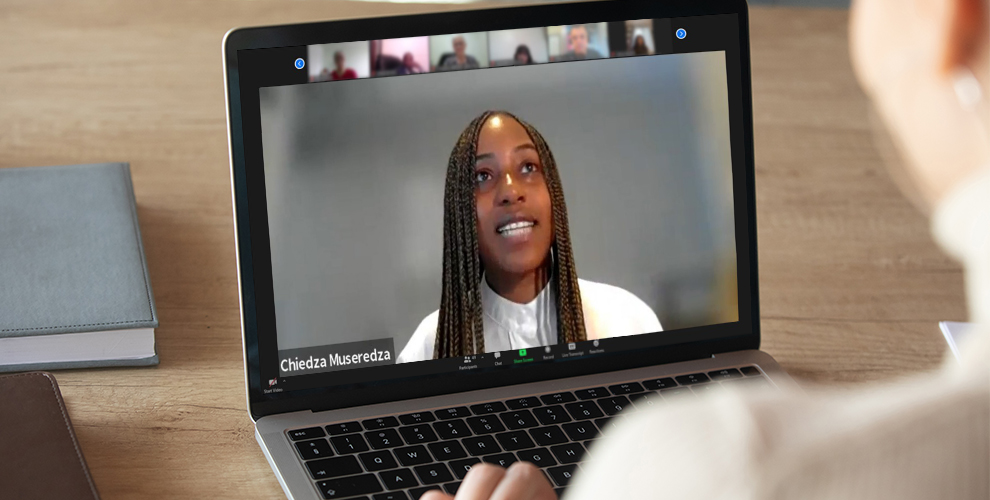 The journey to practicing law in Canada is unique for every ITL. This was a key theme for the speakers at our 8th annual Osgoode's Internationally Trained Lawyers Day, held on May 25, 2022. We've compiled seven inspirational quotes and tips from the event that are sure to encourage and inspire any ITL looking to practise or study in Canada.
Keynote Speaker – Chiedza Museredza
Corporate M&A Lawyer at Blake, Cassels & Graydon LLP

Chiedza was born and raised in Harare, Zimbabwe. She attended law school at the University of Cape Town in South Africa. In 2015, she immigrated to Canada as a student with the goal of becoming a lawyer on Bay Street. She attended Osgoode Hall Law School where she completed an LLM in International Business Law and had the opportunity to speak on one of her research papers that touched on issues of international tax at the United Nations in Geneva, Switzerland. After her LLM, she successfully completed nine NCA exams and the Ontario Bar exams and was called to the Ontario Bar in 2019. Currently, Chiedza is an Associate in the Corporate Group at Blake, Cassels and Graydon and is passionate about tech start-ups and the venture capital space, developing her practice in this area. She is a member of the Black Wealth Club which is a network of emerging black leaders in Canada and sits on the Strategic Planning Committee of the Canadian Association for Black Lawyers.
Antonio Urdaneta
President, ITLNCA NetworkS

Antonio is an internationally trained lawyer from Venezuela, currently practicing Employment and Labour Litigation. Antonio empowers business leaders to reduce the inherent threats of workplace relations by providing innovative training, advisory, investigations and litigation services. He uses coaching tools and skills to inform, advise and represent workplaces with their virtual and physical challenges, including business transformation and managing toxic leadership.
Gurbir Sidhu
Intellectual Property Specialist, Own Innovation

Gurbir is an internationally trained lawyer from India, where he practiced in technology and IP law at an international tech law firm. Currently an Intellectual Property Specialist at Own Innovation, his work includes patent prosecution, building smart IP portfolios and robust IP strategies for innovation-led companies. Gurbir is an alumnus of the Osgoode LLM in Intellectual Property Law, and recently represented Osgoode at the United States Patent and Trademarks Office's Patent Drafting Competition, successfully making Osgoode the first Canadian law school to win the regional round and overall placing third across North America. He values legal mentorship and supports internationally trained lawyers transitioning into the Canadian legal profession.
Megha Uberoi
Principal Lawyer and Founder, Uberoi Legal

Megha Uberoi is the Principal Lawyer and Founder of Uberoi Legal. Megha aim's to make legal services consumable, comprehensible and unpretentious. It is her mission is to provide modern legal services for Content Creators, Digital Entrepreneurs, Brands & Agencies, Corporations and Start-ups as their trusted legal advisor and a lawyer that actually understands their business. During Megha's early legal career, she focused primarily on Corporate Law, where she was able to learn the nuances of contract law and develop her precise drafting skills. It was the beginning of her appreciation and interest of the "fine print". Megha recently had the pleasure of leading the Canadian Legal Department at a Multi-National Corporation (delivering $1billion in revenue). She continues to provide advice as their contract lawyer while working with other digital entrepreneurs, creatives and start-ups.
"There are so many things you can do with a law degree. It just takes a bit of time to sit down and think about, what do I really want to do with the rest of my life. Getting through the NCAs is not the end goal – it goes beyond that, having a fulfilling career, learning, and growing in your career."
Cynthia Lei
Senior Associate, Tax | Customs & International Trade, PricewaterhouseCoopers LLP (PwC)
Michael Tam
Program Lawyer, Professional Graduate & International Programs, Osgoode Professional Development

Michael is the Program Lawyer, Professional Graduate & International Programs at Osgoode Professional Development. In this role he develops degree programs, graduate courses, and non-degree education options for lawyers and law students. He is also the academic and career counsellor to all OsgoodePD students. Michael holds an Honours B.Sc (Hons) in Psychology, an LLB from the University of Leicester, and an LLM from the University of Toronto with a focus on human rights. He completed the NCA process in 2013 and was called to the Ontario Bar in 2015. Michael is a passionate advocate for ITLs, diversity, inclusion, and equity initiatives.
Victoria Watkins
Executive Director, Osgoode Professional Development & Assistant Dean

Victoria is the Executive Director of Osgoode Professional Development, and has been with Osgoode PD since 2004. She is also an Assistant Dean at Osgoode Hall Law School. Prior to joining Osgoode, Victoria was Managing Director of the American Conference Institute in New York, New York, one of the United States' leading providers of industry-focused Continuing Legal Education. From 1997 to 2003, Victoria was Managing Director of The Canadian Institute, the Canadian affiliate of the American Conference Institute, and Canada's leading provider of high end business conferences in the Legal, Energy, Government and Finance sectors. Prior to working in senior management, Victoria was Vice-President Legal, Scott's Hospitality Inc. and General Counsel for Coca-Cola (Canada) Limited. She started her legal career as an Associate Lawyer at Blake, Cassels & Graydon, one of Canada's largest law firms. Victoria has a B.Sc., Psychology Specialist; an LL.B.; and a M.Ed. in Leadership, Adult Education and Higher Education; all from the University of Toronto. She is a Member of the Law Society of Upper Canada, the Canadian Association of University Continuing Education, and Senior Women Academic Administrators of Canada, among other organizations.
Want to be part of OITLD 2024? Sign up today for updates!