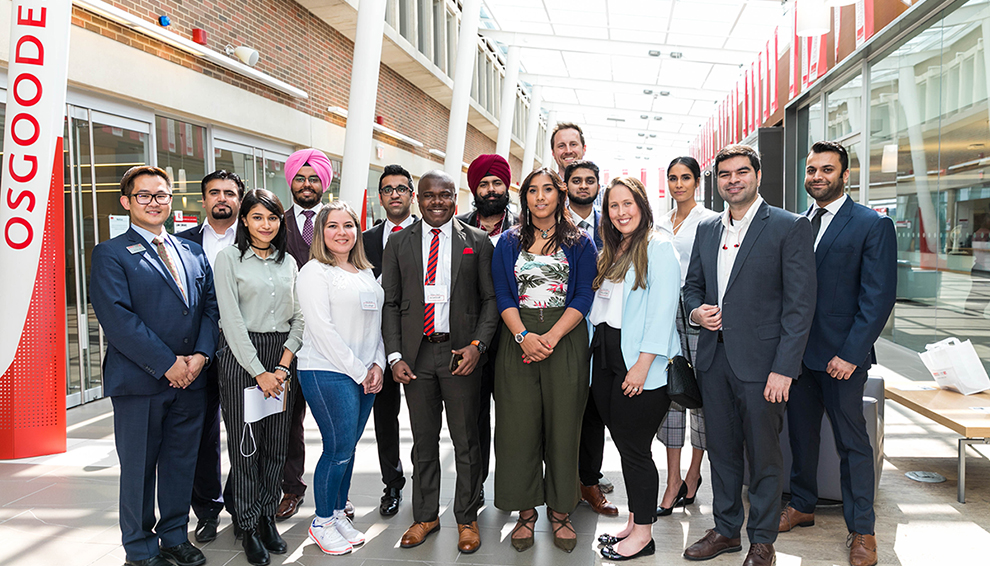 OsgoodePD is pleased to announce two new entrance awards for international students applying to OsgoodePD's Full-Time LLM Programs: the OsgoodePD International Entrance Award of Excellence (six awards annually valued at $30,000 each) and the OsgoodePD International Entrance Award of Merit (twelve awards annually valued at $10,000 each).
These new awards are designed to attract the best and brightest internationally-trained talent to OsgoodePD. Meghan Thomas, Director International and Professional Graduate Programs, says: "The diversity of the student body is an integral part of professional graduate programs. Since class discussion is a central feature of our interactive, seminar-style classes, a diversity of student experience creates a basis for rich discussions of knowledge about the law from around the world. We hope that these awards will encourage more international applicants to consider Canada and OsgoodePD as an option for graduate legal study."
Why should internationally-trained lawyers consider graduate study at OsgoodePD? Meghan says, "One of the strengths of our programs is that they're not one size fits all. We understand that internationally-trained lawyers often have similar needs and goals, but also that each individual student brings their own unique interests and strengths to the program. We aim to build an inclusive, welcoming community for international students, one that offers an unmatched range of courses, as well as individualized support to help students achieve their goals. OsgoodePD has an unwavering commitment to community, academic excellence, and student services."
OsgoodePD's Commitment: Community, Academic Excellence, and Student Services
Community
As Canada's largest and most diverse law school, Osgoode has earned a global reputation for attracting talented students. Students are integrated both into the Osgoode community through high-quality extracurricular activities and events, and into the broader professional community through our downtown location, where students can find endless opportunities to broaden their professional network.
Academic Excellence
Program faculty are some of Canada's top legal practitioners and academics, and are internationally-recognized as leaders in their field. With more than 100 courses across 17 specializations, curricula at OsgoodePD bridge theory and practice, providing students with a strong theoretical background that has immediate practical applications.
Student Services
Students have access to a full range of academic, career, and wellness support. Through one-on-one advising and skills-based workshops, students have access to subject matter experts who are passionate about supporting students' goals and helping them identify new opportunities.
Award Applications Open for Students Applying to Fall 2022
The inaugural batch of awards will be distributed to incoming students in Fall 2022. Applications for Fall 2022 are now open. Winners will be announced in April 2022.
For more information about OsgoodePD's Full-Time LLM Programs see here.