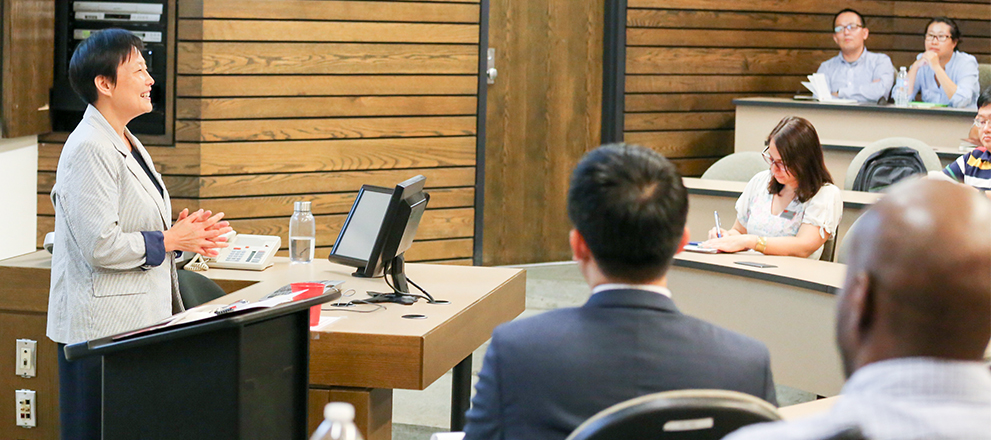 For more than 30 years, Canada's leading thinkers in tax law have shared their knowledge with students to create what has become the country's top graduate program in tax law.
That three-decade milestone for Osgoode Professional Development's (OsgoodePD) Professional LLM in Taxation Law program will be celebrated later this spring at an event featuring some of those same thought leaders, including what's sure to be a passionate debate on whether Canada needs a new tax on its wealthiest citizens.
"Our offline and online offerings in the program are unparalleled in the country," said OsgoodePD's tax law Professor Jinyan Li.
"The program prepares people to become better tax practitioners," she added. "And on the instructor side, we have some of the top people in the country."
Students can also rest assured that the course content will keep them on the cutting edge of changing trends in tax law, including the courts' shifting interpretation of the Income Tax Act and the increasing use of taxation by governments as a social welfare tool.
"People should be aware that the Income Tax Act is becoming much more multi-dimensional," said Li, "and that's the kind of thing our program can help students learn."
Originally developed by Osgoode Hall Law School Professor Emeritus Neil Brooks and Osgoode Distinguished Professor of Practice Scott Wilkie, the Professional LLM in Taxation Law filled a need for concentrated, systematic instruction in the area of tax law, accessible notably to students who had already begun practising in tax.
"I remember teaching classes on the third floor of a brownstone walk-up that was part of the premises of the then Ryerson University (now Toronto Metropolitan University) behind Sam the Record Man (in downtown Toronto)," said Wilkie, who also serves as Senior Counsel and is a former Partner specializing in international tax law with Toronto-based Blakes.
Today, with its home base at Osgoode's technologically advanced downtown Toronto campus, the Professional LLM in Taxation Law is considerably more sophisticated. But its level of scholarship has always been high. Several graduates have gone on to judgeships with the Tax Court of Canada and the Federal Court of Appeal. And numerous students have won awards for papers they have written.
"In ways we think are different from other universities, Osgoode has made a real effort to create a focus on taxation as a core law school discipline," observed Wilkie, "and one of the consequences of that is it's been able to draw on a rich adjunct pool with not only academic depth but deep practice experience."
The program's part-time and online options make it available to students from across Canada – both lawyers and professionals in the field.
"It's a program that works for a lot of people," said OsgoodePD's Director, Professional Graduate and International Programs Meghan Thomas. "It has a lot of flexibility and makes for a rich environment in learning."
The full-time program tends to attract many internationally trained lawyers and junior lawyers already practicing in Canada, said Thomas. By contrast, the part-time program draws more experienced Canadian lawyers and non-legal professionals working in the taxation field.
"It makes for quite an interesting interdisciplinary discussion in classes," noted Thomas.
John Sorensen, a graduate of the Professional LLM in Taxation Law who now teaches in it, said the experience gave his career a significant boost. He currently serves as the Toronto-based co-leader for tax dispute resolution with Gowling WLG.
"Tax law is more academic than other areas of law and practitioners need to be accustomed to formulating the right questions, conducting research and being devoted to clear and comprehensive writing," he noted.
"I would analogize an LLM to spending time in the gym with a trainer, getting ready for a season of team sports," he added. "When the season starts, your success is enhanced if you're faster, stronger and more skilled."
Sorensen said the program provides a special opportunity to dive deeply into tax law with like-minded professionals.
"I speak from experience," he added. "I started an LLM at another institution and was the only person in my cohort with an interest in tax. While it was a fine experience, I was much better off for dropping that and taking up a custom-built LLM in tax law."
The program's unique combination of academic and policy analysis with practical and vocational training also sets it apart.
"It's about tax law, not accounting, and there is time to engage with and muse over the materials," said Sorensen. "What it offers the tax bar is the chance for practitioners to up their game both academically and practically, with sufficient time to allow for learning to become ingrained. We are working on building better tax professionals – one class at a time!"
The program's special anniversary celebration is slated for May 25, 2023 at 5:30 p.m. at the downtown Toronto campus, 1 Dundas St. W. on the 26th floor. Speakers and panellists will include Chief Justice Marc Noёl of the Federal Court of Appeal, Justice Siobhan Monaghan of the Federal Court of Appeal, Heather Evans, CEO and executive director of the Canadian Tax Foundation, Jinyan Li, Neil Brooks and Scott Wilkie. The two guests debating whether Canada needs a new wealth tax will be journalist Linda McQuaig and John Tobin of Torys LLP.
Save your spot and register today to be part of the celebration!