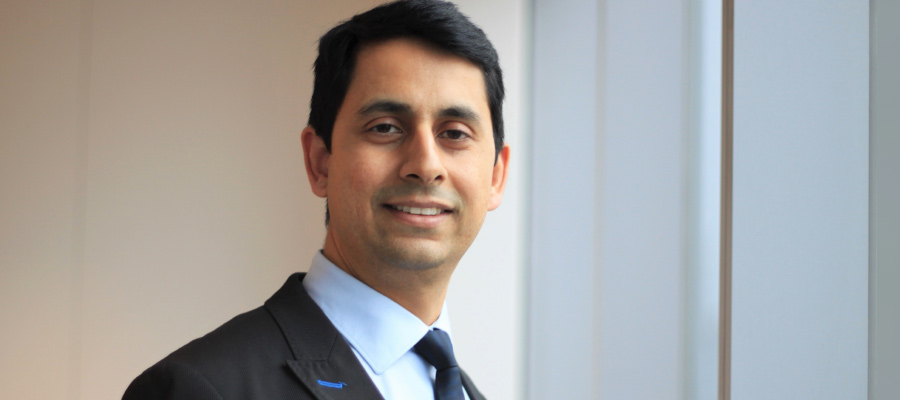 We had a chance to interview Manu Sud, an alum of Osgoode Professional Development's Professional LLM in Administrative Law, and Manager of Business Analytics at Fasken in Toronto. He reflects below on his varied skill sets and achievements across industries including Engineering, Finance, Technology and the Public Sector. Find out how the LLM helped him fulfill his personal and professional goals.
You have many experiences and accomplishments across a wide range of industries. Please tell us about your professional journey.
My professional journey began 25 years ago when I moved to Canada in my high-school years, and had a desire to learn as much as possible and contribute to my community.
With a family of Engineers, I started my career as an Electrical Engineer and worked at National Research Council Canada (NRC), IBM and GM, and all of them were instrumental in refining my engineering skills. I was fortunate to have experienced the scholarly publication process when I published twice in academic journals – Pharmacology Biochemistry & Behavior and IBM developerWorks. As a few years went by, I felt motivated to learn about leadership and finance. Subsequently, I pursued an MBA and eventually landed a job at TD in capital markets.
During those years, I learned many different technical skills and also dedicated my time to volunteer work. I began by volunteering at the local library and hospitals. Thereafter, I volunteered with the Down Syndrome Research Foundation, Toronto's 2015 ParaPan-Am Games and Toronto's 2017 Invictus Games.
My career at TD gave me a breadth of experience in financial management, economics, and accounting; yet I missed working for issues affecting my community. That's when I decided to leave the private sector and go into the public sector. I joined Ontario Public Service (OPS) in the Ministry of Energy in Policy and Finance division. It was a wonderful transition because I learned about social policy and made policies towards making society a great place. Through my work, I received the Amethyst Award, which is the highest award given in the OPS.
A couple of years later, I joined Fasken in my current role, where I manage business analytics in the legal space. I love this job as it allows me to use all the skills I have gained in Engineering, Management, and Law, and I can also continue to learn.
Looking back, I enjoyed the journey in each of these accomplishments — the Amethyst Award, academic publications, and my volunteering at non-profit boards. These experiences connected me with people across the world, who I was able to learn from. My professional journey thus far has educated me on how to better contribute to society at each step of my career.
What experiences led you to pursue the LLM in Administrative Law?
I pursued the LLM in Administrative Law while working with the Ontario Government. Having interacted with several lawyers during this experience, I became interested in law and ethics.
Throughout my engineering and earlier work experiences, I analyzed problems using ones and zeros. While working at the Ontario Government in a policy role, I realized the essence of law within policy making. I was intrigued by different statutes and laws that affected the work we did at the Ministries. I felt that I was missing important skills to examine and analyze contemporary legal issues relating to public policy and social benefits.
After discussing with several mentors, I found the LLM program at Osgoode Professional Development which focused on the areas I was interested in — current developments in administrative law, theoretical perspectives on public administration, the law and application of judicial review principles, case studies in provincial and federal administrative specializations, institutions and policy-making processes, and the liability of the Crown and other public bodies.
The degree enabled me to understand intricacies in policy-making environment. After completing my LLM, I was able to further enhance my commitment to social service by joining the boards of two non-profit organizations – Meta Centre and Renascent, which provide support services to people with special needs and substance abuse issues respectively.
Can you share any advice for prospective students of the LLM?
The LLM is a great asset to expand your career and gain new valuable knowledge in ethics and legal issues. You get an opportunity to learn not only from books and the latest research, but also from peers in different professions. There is a significant amount of learning and writing in the LLM and the professors teach you from a diverse range of experiences and research.
At work, employees get evaluated and need to do tasks in a certain way. However, the LLM at Osgoode provides a sandbox and an ample amount of opportunities to test learning and do as much experimentation as you need with thinking, logic, and analysis. It is a great program and you will enjoy and learn from it as much as I did.
Want to know more about the Professional LLM in Administrative Law? Sign up for an Information Session!
---
Manu Sud, BSc, BASc, MBA, LLM is a Manager of Business Analytics at Fasken in Toronto. He has extensive experience in engineering, finance, technology and the public sector. Manu is on the Board of Directors at Meta Centre and Renascent. He also volunteers at the Alzheimer's Society and is a Mentor and Career Ambassador at the University of Toronto.