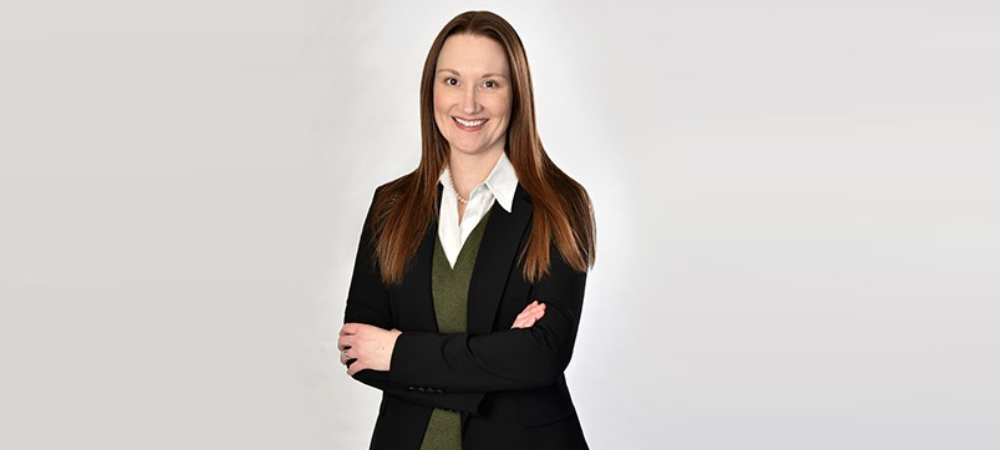 Osgoode's alumni spotlight series highlights Amanda Wickett. Amanda shares her journey from public to private practice, balancing her work, studies and family life, and how she accomplished her goals through remote learning. Today, Amanda is a partner at McDougall Gauley LLP, as well as a graduate of the LLM in Administrative Law. We asked Amanda to tell us more about her journey:
---
Can you tell us about your professional journey?
I began my legal career with a clerkship at the Federal Court of Appeal. Following my clerkship, I carried on a corporate commercial practice at a private law firm. After having children, I moved to the public sector to work for the provincial water regulator. It was as Senior Legal Counsel with the provincial water regulator that I completed my LLM degree. Although I have since returned to private practice, I am grateful for the time I spent at Osgoode.
What impact did the LLM in Administrative Law have on your career?
I hated Administrative Law in law school! It seemed overly complicated and hyper-focused on standard of review analysis. As a result, when I started my LLM program, I enrolled in the Energy and Infrastructure Law program. After taking a few classes from the Administrative Law program, I realized that the subject matter was more applicable to my (then) work, and transferred programs. The program opened my eyes to the pragmatic roots of Administrative Law, and helped me develop a newfound appreciation for the area.
Why did you decide to pursue an LLM at Osgoode?
I chose to pursue an LLM at Osgoode because it was the practical choice. I knew going into the program that I would be working full-time throughout, with two young children at home, and a spouse who routinely travels for work. I needed the ability to schedule my classes around my life, and attend those classes remotely. Osgoode allowed me to do that, without compromising on program quality. The instructors and my fellow students were first-rate. I could not have asked for a better experience.
What was your distance learning experience like?
It was truly seamless. I cannot recall ever having connectivity issues, or worrying that I was missing-out on something that was taking place in the physical classroom. You really do feel like you are in the classroom, with your peers. There is also the added benefit of attending the classes with people from across Canada and, occasionally, abroad. This not only enriches classroom discussions, but it also presents unparalleled networking opportunities.
What advice would you offer someone considering an LLM at Osgoode via distance learning?
Don't hesitate! Osgoode is a leader in the distance-learning space, with approachable IT professionals who make sure you are ready to go on Day 1. These IT professionals are also available for every class (day or night) to ensure smooth program delivery. The ability to attend classes remotely – seamlessly – is one of the many reasons why Osgoode LLM graduates often come back for a second program (I've seriously considered doing so myself!).
Want to learn more about the Professional LLM in Administrative Law? Sign up for an Information Session!