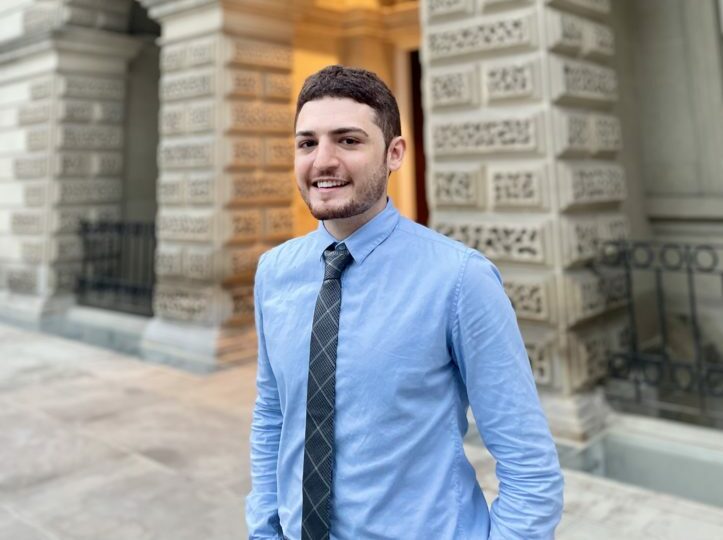 Eduardo Castro is an internationally trained lawyer and alumnus of the Professional LLM in Canadian Common Law. He is currently working as a legal assistant at Gottlieb Family Law Professional Corporation where he refines his communication, organization, customer service, legal writing and legal research skills in preparation for his next goal: articling. We had the pleasure of speaking with Eduardo to find out more about his journey.
---
Eduardo, who identifies as an active member of the LGBTQ community, prides himself on his pro-bono work. At the beginning of his LLM study term, Eduardo attended the Osgoode Hall Law School (Osgoode) Clubs Fair. Osgoode's Clubs Fair is an annual event that introduces students to the clubs and organizations that they can get involved with during their studies. It was here that Eduardo decided to join the Osgoode Chapter of Pro Bono Students Canada and became the organization's Queer Law Project Lead. Pro Bono Students Canada has a partnership with numerous volunteer law projects where both JD and LLM students can volunteer. As an executive member, Eduardo was not only responsible for monitoring the student volunteers on the projects related to "queer law," but he was also accountable for proactively addressing any concerns related to the projects, the students and their supervisors.
Eduardo began his professional career as a lawyer in Brazil. He graduated law school in 2018, and by 2019 he had a full-time career as a labour and employment litigation lawyer focusing on legal research and drafting pleadings. Shortly after, he set his sights on moving to Canada. He stumbled upon Osgoode through a Facebook post and befriended three Brazilian students in the Canadian Common Law Professional LLM program: Lara Merjane, Priscila Aktinson and Bruna Kalinsoki. "Lara, Priscila and Bruna inspired me so much and were so helpful to me throughout the entire process. They shared all the details about the program and the path to accreditation which I am super thankful for," Eduardo says. In fact, when we sat down with Lara and Bruna, they both spoke about the benefits of the connections that students form while in the program.
In 2020, Eduardo applied to Osgoode and completed his studies virtually due to COVID-19. Despite the pandemic setbacks, Eduardo was able to make the most out of his educational experience. "Since English is not my first language, the distance learning that Osgoode provided was actually very helpful because the program was all recorded, allowing me to go back and forth to make sure that I didn't miss anything," he explains. Eventually, Eduardo was able to make it to Canada for his final exams and is now in the process of applying for his permanent residency.
We asked Eduardo what advice he would give prospective international students interested in studying at Osgoode, and he responded without hesitation, "look for students who have gone through a similar professional path. Don't be afraid to send an email or have a phone call. This networking has helped me tremendously and I would not be here if I had not taken my own advice."
Eduardo also emphasizes the importance of utilizing career services in Canada, as he did through Osgoode's Program Lawyer Michael Tam. Tam offers students career and interview coaching while they pursue a degree. "Michael helped me so much with my interviewing," says Eduardo, "He enhanced my cover letter and resume and provided some great advice. All of which are things that I am realizing are just as important as my grades." All the effort clearly paid off as Eduardo secured 11 on-campus interviews with Toronto's big law firms for a summer job. Although Eduardo decided not to apply for an articling position immediately, he currently works as a legal assistant while simultaneously studying for his Bar exams.
Want to learn more about the Professional LLM in Canadian Common Law? Sign up for an Information Session!