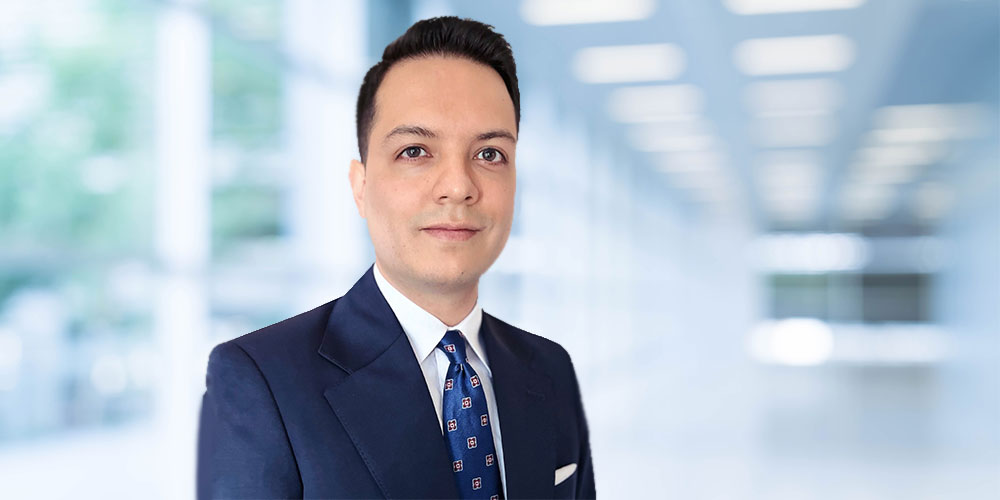 Big changes are no big deal for Francisco Rojas.
Soon after arriving in Canada from Ecuador to enrol in Osgoode's Professional LLM in Canadian Common Law, Rojas set his sights on a corporate or commercial law position.
To the casual observer, the choice might have appeared unusual for someone like Rojas, whose practice in his home country focused largely on criminal law. But he had learned enough from his classmates, instructors and new professional connections to recognize that the field of banking and financial services would be a better fit as he restarted his legal career in Canada.
"The diversity of the Professional LLM in Canadian Common Law played a role," Rojas says. "You are absorbing substantial amounts of information about criminal, constitutional, property and contract and torts law in a short time, which helped me broaden my perspective."
Within just a few years, the transition was compete – Rojas graduated from Osgoode in 2020, was called to the bar in Ontario in 2022 and now works as counsel at the Royal Bank of Canada, one of the country's largest financial institutions.
"For sure, it's been a challenge to adapt, but challenging in a good way," he says, explaining that the shift felt less dramatic because it was broken down into numerous steps across various roles at the bank, as well as a brief interlude in private practice at a boutique commercial litigation law firm.
As a result, Rojas was able to leverage his experience at each stage to move a little further along his career path.
"It wasn't like an overnight switch from criminal to commercial law. It was more an accumulation of experiences," he adds.
Rojas is no stranger to major transitions. One of his first arrived during his childhood, which was split between Canada and Ecuador before his parents returned the family home for good to the South American country.
Inspired by movie and television portrayals of the legal profession, Rojas was spurred on to apply to law school at Ecuador's Universidad Catolica de Cuenca by the encouragement of friends and families who were convinced it would put his arguing skills to good use. And their assessments were validated as Rojas thrived in the LLB program.
"It was another enjoyable challenge. I was very enthusiastic about becoming a lawyer and I had a great experience," he says.
After graduation, Rojas completed a masters degree in criminal law and experienced both sides of the criminal bar – practicing with both the prosecutor's office and a criminal defence firm – before deciding his was ready for a fresh challenge abroad.
Canada was the natural choice because of his roots in the country and Osgoode proved to be an equally obvious selection for Rojas, because of the way the core courses of its Professional LLM in Canadian Common Law are specifically designed to meet the requirements of the Federation of Law Societies of Canada's National Committee on Accreditation.
In addition, he was struck by the institution's connections with major employers in the legal sector, including law firms of various sizes and major businesses with their own legal departments. Rojas would eventually take full advantage of Osgoode's career services when he landed a summer internship position at RBC set aside for LLM students.
In the two months he was there, Rojas made enough of an impact to be recommended for a longer contract covering for a law clerk on maternity leave. During that job, he displayed his resourcefulness, convincing the bank to depart from its typical procedure and create an articling position tailored for him.
"Normally their articling students are on secondment from Bay Street firms, so that felt like a personal achievement," Rojas says.
According to Rojas, his networking skills have been one of the keys to his success during his Professional LLM in Canadian Common Law and beyond. He says internationally trained lawyers following in his footsteps to prioritize their abilities in the area if they want to thrive in the Canadian legal community, explaining that there is an art to making connections that go deeper than surface-level.
"Job opportunities or openings shouldn't be your only focus. Above all, you want to make a genuine connection," Rojas says. "If you reach out to 100 people, the chances are that one will lead to your next job. But I find that people don't focus enough on the other 99; each connection you make is a learning opportunity. Then when you get a job, you will know what you are getting into."
Want to learn more about the Professional LLM in Canadian Common Law? Sign up for an Information Session!