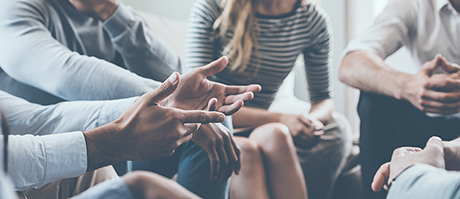 I'm going to be leading an upcoming course on Improvisation for Legal Professionals, and a common question I am asked is "why improv for legal professionals?" How is improv relevant, especially when preparation is such a key focus of the legal profession?
Today's professional culture is marked by a need to stand out, to be distinct, and to demonstrate confidence and capability. It's also marked by constant change; where flexibility and adaptability are increasingly important skills. But all this change can be hard to adapt to – it challenges the norms of comfort, control, safety, and security. As a lawyer, you're trained to think, focus and prepare. But what happens when you're in a situation where you're thrown a curveball, and your preparation can't help you. What do you do? How do you react?
This is where improvisation comes into play. It introduces elements of active listening and flexibility in dealing with change that will help you deal with the unexpected, and provide you with the expertise to differentiate yourself from the next person. Improvisation is all about risk and dealing with the unexpected head-on; improv requires that we get comfortable with being uncomfortable. Being a risk taker in improv terms means getting out of the "box", stepping out of your comfort zone and reaping the rewards of having taken the chance.
The experiential learning of improvisation can have a powerful impact on professionals. Improvisation techniques change communication dynamics one conversation at a time. These techniques teach professionals how to actively listen and respond to new information. The improviser is no longer concerned with finding the "right" or "good" answer, rather, they become more responsive to changing circumstances and concerned with finding solutions to overcome obstacles. This gives the improviser an edge; they stand out from the crowd and are seen as better communicators, relationship builders, and collaborators.
Learning the tenets of the art of improvisation has helped thousands of professionals distinguish themselves from the crowd and become the innovators they've long desired to be. What surprises professional clients most about improvisation requires you to be "in the moment", to actively listen to new information and to adapt your approach accordingly.
Improv sounds simple however many professionals do find it challenging. In improv, taking the chance by stepping out of your comfort zone, actively listening and dealing with the unexpected puts you in the advantage and helps you gain trust.
Improvisation is my skydiving. Nothing is riskier than stepping in front of a crowd with absolutely nothing pre-planned and pulling the chute. And I wouldn't have it any other way.
Lisa Merchant will be leading OsgoodePD's Improv(ed) Legal Skills: Improvisation for Legal Professionals workshop.
---
LISA MERCHANT is a highly sought after improvisation instructor/facilitator/performer. She has been studying, performing and teaching the art of improvisation for 30 years. Lisa is a Senior Faculty member at The Second City Training Centre and is a corporate facilitator with The Second City Works division, Bad Dog Theatre and privately. Lisa is a multiple nominee and winner of numerous Canadian Comedy Awards for Best Female Improvisor as well as Best Ensemble.
---