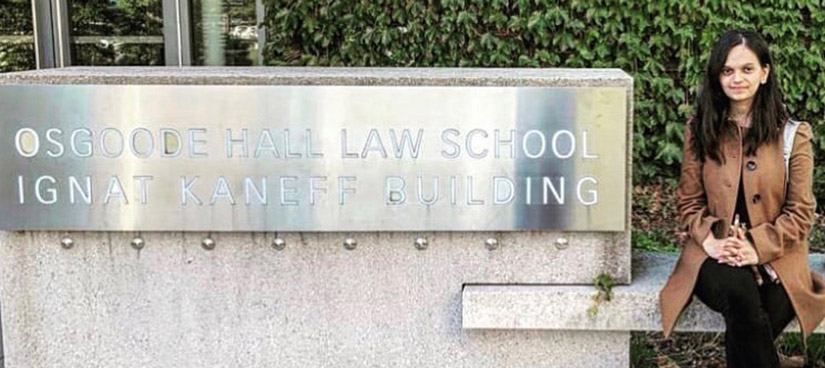 We spoke with Shwetha Pai, an alumna of Osgoode's Full-Time Professional LLM in Canadian Common Law to learn about her journey as an internationally trained lawyer. She shares her insights, her challenges, and her accomplishments.
Shwetha always wanted to come to Canada, and decided that Osgoode was at the core of that journey. She recalls the inevitable struggles of moving to a new country, and how she was able to overcome them. We learn how her experience at Osgoode has opened so many doors, including landing an articling position at one of Canada's largest family law firms. What was the key? Osgoode's career resources, networking opportunities and training, and stepping outside your comfort zone.
You are originally from India. Why did you choose to study at OsgoodePD?
I always wanted to come to Canada, and I know it was a diverse and welcoming place. When I started re-searching the practical aspect of it, I realized Canada's licensing process is pretty straightforward.
Osgoode is no doubt one of the best legal institutions in Canada. They have a top tier faculty and a wide array of subjects to choose from. More importantly, they have great career resources that make your licensing process just that much easier.
The best part of it for me was that I could satisfy my NCA requirements while simultaneously studying for a master's degree.
What was your experience like coming to Canada as an internationally trained lawyer?
To be honest, life of an ITL is challenging and there is no better way to put it. Having said that, in the end it is all worth the hustle.
My testing point was getting comfortable with the importance placed on networking. This was tough especially when you come from a jurisdiction that is oblivious to such a system. I did not understand the importance of it until I experienced it myself. At Osgoode, we had a number of networking exercises and events, and that is what usually helps you land a job.
Were there any services that you found helpful?
Yes, absolutely. Osgoode has a mine of career resources which are so helpful, and I cannot emphasize this enough. My career counselling sessions which included resume and cover letter review, and mock interviews were most beneficial.
I still remember what Michael Tam (Program Lawyer, International Programs at Osgoode PD) said to me during one of my career sessions with him. "Focus on making connections during your interview, not on the interview". That is exactly the advice I applied during one of my articling interviews at the largest family law firm in Canada. And although I did not secure my desired position, I got an opportunity to intern there. I was the firm's very first intern and they specifically designed this program to train me. This in turn opened doors to many more opportunities and ultimately helped me secure an articling position. This brings me back to my earlier point on how important networking is.
How have you applied what you've learned in your LLM to your career?
Apart from networking, there have been a lot of theoretical components of the program that have helped me in my practical experience. To name a few: The first thing that they teach you during your course is how to draft a research memo. We were given multiple assignments and several exercises in class. This is also the one of the first tasks that a law firm assigns an intern/student.
"Everyone's journey is different so do not get flustered or influenced by your classmates' accomplishments. Your perseverance will all be worth it in the end. As they say, it seems impossible until it is done."
What advice would you give to an internationally trained lawyer interested in studying at OsgoodePD?
My recommendation for ITLs whose main purpose is to get licensed in Canada, is to take the Osgoode's Canadian Common Law program so that you can satisfy your NCA requirements. Make use of Osgoode's career resources, which is your biggest asset as part of the institution. Make the most of it. Network! Make genuine connections. This does not have to necessarily be part of a formal setting. It involves building relationships with people around you.
Do you have any additional advice for someone hoping to start a career in the Canadian legal market?
Get outside your comfort zone. Participate and volunteer as much as possible to build connections, your resume and your skills. Also, most companies do not have job postings. Do not shy away from reaching out to firms by cold emailing/calling them. I landed my first internship and articling position by emailing firms that did not have any active postings online.
Be patient. I sent applications to 100+ law firms before I finally secured an articling position.
Want to know more about the Full-Time Professional LLM in Canadian Common Law? Sign up for an Information Session!
---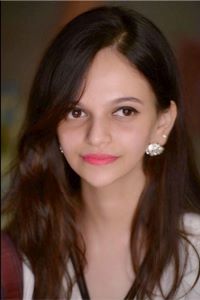 Shwetha Pai, LLM (Osgoode's Full-Time Professional LLM in Canadian Common Law), is an internationally trained lawyer with 3 years of practical experience in Family Law, Real Estate and Estate Planning. Shwetha received her Bachelor of Laws from India in 2016. Following that she graduated from Osgoode Professional Development with an LLM in Canadian Common Law. Shwetha is currently interning at Epstein Cole and will be starting her articles with Nussbaum Family Law next month. She likes to utilize her spare time baking and trying her hand at different culinary skills.