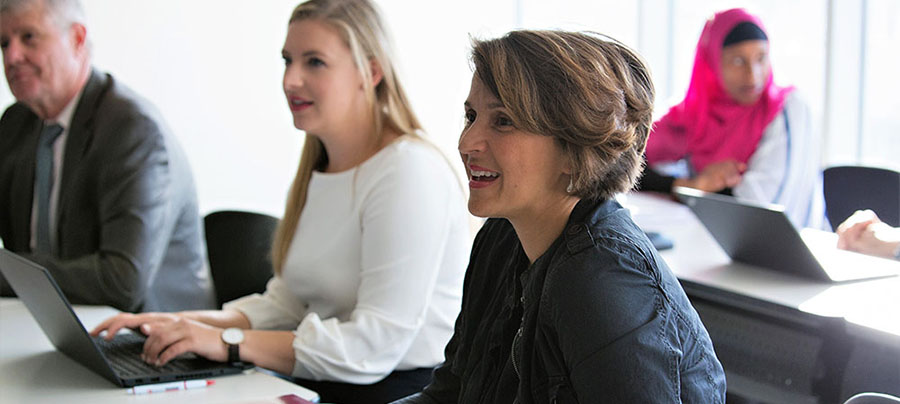 OsgoodePD students come from a wide variety of educational and professional backgrounds, but virtually all of them share the same ultimate goals: career change or career development. Our Professional LLM courses will equip you with the skills you need to take your career to the next level, but that still only gets you part of the way to transforming your professional life.
There's not much point devoting all that effort to your studies if you can't market your talents and know-how to prospective employers, which is why we focus so much of our energy on our career and professional development services.
As an LLM student, you get access to Osgoode's career services portal – a priority posting spot for top firms in recruitment mode – as well as exclusive networking events and CLE deals. In addition, our annual Internationally Trained Lawyer Day connects members of the global legal community with key contacts on the Canadian scene.
One of our most popular features is the tailored career counselling available to students with our experts, who are available during the daytime or evening, in-person or online.
Depending on your needs, the unlimited one-on-one sessions can focus on honing your resumé, cover-letter, interview technique, job-search strategy, and more.
Below, OsgoodePD Program Lawyer Michael Tam gives us a sneak preview of what you can expect from our career counselling experts. Based on more than a decade of experience reviewing and assessing candidates, here are his 3 top tips for job-hunting success.
So what does Michael typically recommend to current and prospective students?
Tip 1: Refresh your resumé
If it's been a while since your last job application or you're changing your career direction, then your resumé and cover letter may need an overhaul.
But the update isn't simply about preventing staleness setting in – employers in different sectors have varying expectations from job candidates, and OsgoodePD's career experts can help you tailor your approach through a combination of constructive feedback and self-criticism.
"People get so used to writing resumés, cover letters, and applications in the way that they've always done that it's rare for them to revisit their strategies," Tam says. 
"It's worth going through your cover letter and resume in detail to see if they're achieving what you want them to achieve – especially when you are embarking on a particular practice area, or in a new jurisdiction with different job search strategies."
Tip 2: Showcase your advocacy skills
A job application is no place for generalities or blandness – this may be your only chance to grab an employer's attention and show them that you possess the advocacy skills that are critical to a legal professional's work.
Many applicants blow their chance by keeping it short in the initial application document, expecting to go into more detail during the interview.
"If you can't convince an employer on paper that you're a standout candidate, you never get the opportunity to explain it in person at an interview," Tam says.
Applicants who present employers with an unfiltered list of everything they've ever done – leaving it to the reader to figure out how their previous experience connects to the new position – will fare just as badly.
"That's not good written advocacy. Every point on a resumé and every paragraph on a cover letter should be written to catch the reader's attention and prove why that candidate should be hired," Tam explain
Tip 3: Build your network
Legal education and the legal profession more broadly can be an isolating and frustrating. The best way to combat those feelings on your own path through them is by building a community around you.
You will need supporters, advocates and mentors at every stage of your career, which includes times of career change or job hunting.
"Building a network can be difficult, and if you're not the type of person who feels comfortable taking the lead to meet new people, it can be hard to start. However, once you start saying 'yes' to opportunities and building relationships, you'll be amazed by how many new doors open," Tam says.
Want to learn more about Osgoode's Professional LLM and how it can serve both your personal and professional goals? Sign up for an Information Session!