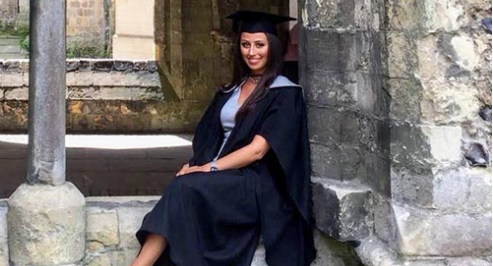 Bianca Tedesco is a recent alum of Osgoode's Professional LLM in International Business Law. Bianca shares her experience on how the LLM gave her the skills and opportunities to reach her career goals.
What led you to apply to the OsgoodePD International Business Law LLM? What were your legal education objectives?
I've always been passionate about international business law and have incorporated these interests throughout every stage of my education. I completed my undergraduate degree in law with a concentration in business law, then continued my studies overseas in France and England.
After my experience abroad, I decided to pursue an LLM because I was hoping to gain expertise in this area and take a closer look at the career options available. As international business law is quite broad, the program allowed me to pursue my academic interests through electives and explore specialized topics such as cross-border taxation. I was looking to build a professional network in Toronto, as I always intended to return home.
What were some of your experiences during your LLM studies that helped you get to where you are today?
Completing an LLM in International Business Law has assisted me to get where I am today. These experiences could be broken down into two components: academic research and professional network.
Several courses have the option to complete a significant research paper. When available, I selected the research route as it allowed me to engage in a topic related to my specialization. Unlike most exam formats, it challenges students to conduct an in-depth and independent critical analysis of its subject matter. During the research study, supervision is available which provides an opportunity to work closely and build rapport with industry experts.
Research papers are a great discussion topic when connecting with lawyers in the field and interview settings. My advice to students is to choose research topics you are truly passionate about. For me, I've always been fascinated by the intersection of law and technology. One topic I wrote about was Canada's GST Rules in the Age of Electronic Commerce. Today, amidst a global pandemic, the legal field has been forced to address issues of new technologies. In a world that has gone digital, this cross-border taxation concern is not only relevant but is top of Canada's agenda.
The next experience that helped me get to where I am today was building a strong professional network. Whether students join a law society or volunteer at a conference, there are several ways to get involved. I took part in several extracurriculars which provided an opportunity to connect with professionals and colleagues from across the globe and establish long-lasting relationships. Networking is important for professional development as it helps improve skillset, stay up to date on current issues/trends, keep an eye on the job market, meet prospective mentors and gain access to the necessary resources.
I believe actively engaging in research and networking will make the most out of your experience!
What is one of your proudest accomplishments in your professional development journey so far?
To date, my proudest accomplishment in my professional development is my international experience. As Canada's legal system is based on the English and French systems, I choose to broaden my horizons and pursue my studies in England and France where our systems originate from. This exposure was beneficial to my learning and understanding of cross-border affairs. The skills I developed while abroad support both my personal and professional development. These opportunities have allowed me to advance my language and communication skills, learn about new perspectives and establish a greater understanding of the world. During my LLM, I was able to continue building these skills and connections with professionals from across the globe.
As technology advances, the world is becoming more interconnected and economic borders are becoming less confining. As a result of globalization, there is a growing need for cross-border legal service and legal education is challenged to produce lawyers with skills to serve the emerging global community.
What advice would you give to lawyers and professionals from around the world thinking about pursuing an LLM in International Business Law at Osgoode?
Toronto is the international centre of business in Canada, making it an ideal city to pursue this specialization. For internationally trained lawyers, an LLM is a great way to get your foot in the Canadian legal or business market. Students can tailor the program to pursue their academic interests through electives. There are several courses available including international trade law, international finance, international business transactions and other related topics. This is a great opportunity to demonstrate your passion and commitment to a specific area of law.
Pursuing an LLM can open new career opportunities such as teaching, research and policy work. The program is comprised of students from across the globe with varied experience levels. From lawyers entering the profession to experienced lawyers looking for a new direction, diversity in the classroom creates a very enriched learning environment.
Want to know more about the Professional LLM in International Business Law? Sign up for an Information Session!
---
Bianca M. Tedesco LL.B., LL.M., is a lawyer at EY Law LLP. Throughout her legal training, Bianca spent significant time studying abroad in France, England and Canada. As a law student, she specialized in International Business Law with a focus on Taxation Law from Osgoode Hall Law School. Bianca has experience working in the public sector (Federal Government of Canada) and in private practice. In her spare time, Bianca is an avid reader and enjoys painting, running and cooking plant-based meals.