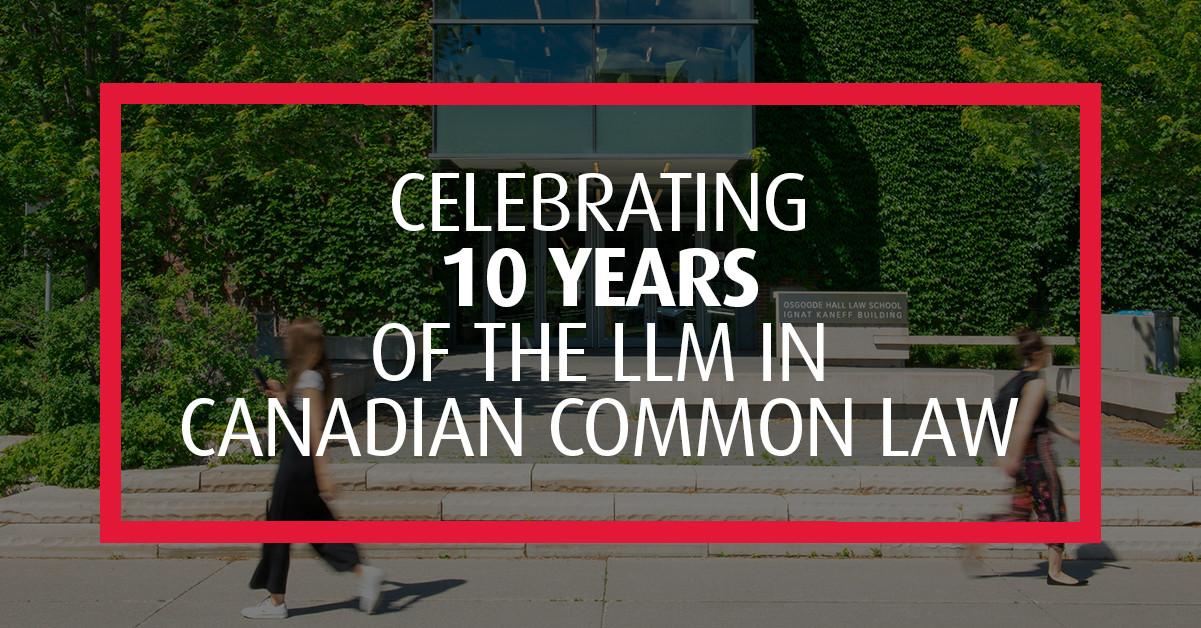 For Patricia Cavalhier, it was an opportunity she thought she'd never see again.
When the Toronto resident immigrated to Canada from Brazil with her family in 2010, she assumed that giving up her career as an accomplished lawyer was simply a sacrifice she'd have to make. Her legal background in a civil law jurisdiction like Brazil, she believed, would not translate to Canada, so she pursued a career in banking instead.
But as the family settled into their new home and she explored her options, she discovered Osgoode Professional Development's full- and part-time Professional LLM in Canadian Common Law program for internationally trained lawyers. With her employer's support, she enrolled as a part-time student. In 2021, she was hired as legal counsel for TV Ontario (TVO), the province's publicly funded educational television network, and was promoted in March 2022 to TVO's director of legal services.
It's a happy ending that's been repeated hundreds of times since the program's inception in 2013. Over the past 10 years, the unique offering has helped more than 1,000 internationally trained lawyers from more than 60 countries launch or re-start their legal careers in Canada, literally changing the face of the profession.
"It's really made a massive impact in diversifying the legal profession in Canada," says Meghan Thomas, the director of professional graduate and international programs for OsgoodePD. "It's good for each individual graduate, it's good for the population-at-large because there's access now to more diverse representation, and it's good for the profession."
With its full-time, part-time and distance-learning options, Canadian Common Law LLM courses are accredited by the Federation of Law Societies of Canada's National Committee on Accreditation (NCA), enabling students to move on to lawyer licensing after completing their NCA requirements. While other routes to accreditation existed prior to the program's launch, they were often too difficult or impractical for many lawyers trained outside of Canada to pursue, she noted.
"This program and its expansion over the years has really provided a lot of opportunity for people," she adds.
The program's success will be celebrated at a special 10th anniversary event on Oct. 24 from 5 to 8 p.m. at OsgoodePD's downtown Toronto campus. The gathering will give graduates from across the years a chance to reconnect, reflect and toast the fruits of their hard work.
The program originally stemmed from OsgoodePD's Professional LLM in International Business Law program, recalls Executive Director Victoria Watkins. Established in 2009, it quickly began attracting international visa students, many of whom wanted to stay and qualify to practice in Canada.
"So we decided that we should create a program that would help people get the qualifying Canadian law courses to qualify to practice," she says. "And that's where it started. It basically came out of student needs."
Osgoode Hall Law School Professor François Tanguay-Renaud, the program's academic director, says the students' richly varied backgrounds and perspectives make for an exceptionally stimulating classroom environment.
"People come from common law jurisdictions, civil jurisdictions and jurisdictions that vary in all sorts of ways," he notes. "And that knowledge on the part of the students really contributes a lot to the classroom in terms of being able to situate norms and concepts in Canadian law in relation to what's happening elsewhere in the world."
Tanguay-Renaud says the quality of instruction is equal to Osgoode's mainstream JD program – but is actually more advanced in some respects because the LLM students already have years of training and experience under their belts.
The result? "It really helps generate very creative thinkers and law graduates," he says – "people who are able to deal with legal problems from more than just one perspective."
After graduation, the varied career paths students typically follow has helped shatter the myth that career opportunities for internationally trained lawyers are limited, says Thomas. An analysis of graduates from 2015, 2017 and 2019 found that 93 per cent were licenced and were employed across the full spectrum of practice areas. Forty-nine per cent were working for solo or small firms, 12 per cent for boutique firms, 11 per cent in house, nine per cent for mid-size firms, nine per cent for the government or public sector, seven per cent for big firms, and three per cent for regulatory bodies.
"Just because you're internationally trained doesn't mean you don't have access to a wide range of opportunities professionally," says Thomas. "That was the myth that was out there – that you won't get to choose."
The 174 graduates from those three years had an average age of 37 and came from 43 countries. Historically, many have traced their roots to nations like India and Nigeria, which are connected to Canada through Commonwealth ties and a shared common law tradition. But in recent years, she notes, students from countries like Brazil and the Philippines have been on the rise.
The program has been purposely designed by OsgoodePD to provide the widest range of pathways to internationally trained lawyers coming from a variety of circumstances. In a partnership with the York University English Language Institute, for example, it offers the Intensive Advanced Legal English Program. Its full-time or part-time Graduate Diploma in Foundations of Canadian Law, which is described as the only program of its kind in Canada, can be an attractive option for students who want a stronger foundation in the Canadian legal system before pursuing the Canadian Common Law LLM. Through OsgoodePD, students also have access to career and wellness counselling.
"We've done a lot of stuff that's really different from what other schools are doing – and in a student-focused way – because we want people to be successful in the profession," said Thomas. "There's no one else who has the size or range of options that we have."
Over the past 10 years, internationally trained lawyers have become one of OsgoodePD's core client groups. Their importance is reflected in special events like Osgoode's Internationally Trained Lawyers' Day, an annual event when legal employers, lawyers and law graduates from different countries – and those who may be going through the process of accreditation or licensing alone – gather to learn, share and celebrate internationally trained talent across Canada.
Going forward, Watkins says, OsgoodePD is planning to add more experiential learning opportunities to the program, with a focus on practical lawyering skills. And the introduction of several significant entrance scholarships for internationally trained lawyers in 2021 has made the full-time and part-time programs more accessible than ever. The $30,000 OsgoodePD International Entrance Award of Excellence is awarded to six students annually, and the $10,000 OsgoodePD International Entrance Award of Merit is awarded to 12 students each year.
"So we now have another pool of people that we're drawing – people who couldn't have otherwise afforded to come," she adds. "It's really been great for the program and for Osgoode. Overall, it's a group of students who have accomplished amazing things despite formidable obstacles."
Join us on October 24th as we commemorate a decade of excellence in legal education! The Professional LLM in Canadian Common Law program is proud to celebrate its 10th anniversary, and we invite all alumni to be a part of this special reunion celebration.