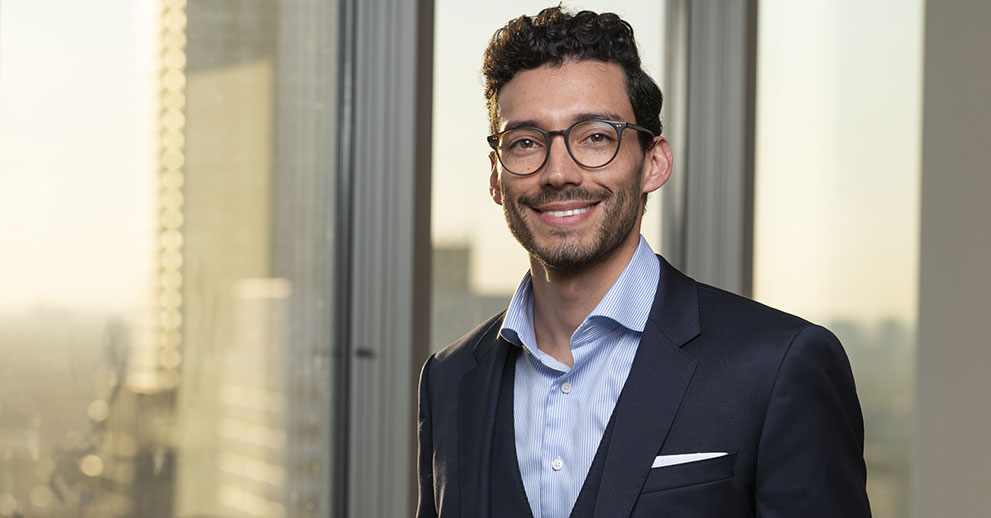 Just two years after arriving in Canada, the place is already starting to feel like home to Juan Higuera.
"It has been quite an adventure, but I can say that we are finally settled," says Higuera, who had spent several years practising law in Mexico before enrolling in OsgoodePD's Professional LLM in Canadian Common Law.
He was recently named the program's 1000th graduate as part of its 10th anniversary celebrations and, like many of his predecessors in the program, Higuera has wasted little time re-establishing both his professional and personal life in his adopted country.
Since graduating in 2022, Higuera has been called to the Ontario bar and has landed a position as a tax associate in the Toronto office of Davies Ward Phillips & Vineberg LLP – one of Canada's largest full-service law firms. He and his wife also recently welcomed their second child – the first Canadian-born member of the family.
"We are really growing roots here," says Higuera.
Back in Mexico, where Higuera grew up with tax law in his blood, he never had much doubt about where his professional future lay.
"I pretty much always wanted to be a lawyer," he explains. "I looked up to my father, who is also a tax lawyer. My sister who now lives in Finland also became a tax lawyer, so we are all in the family."
While studying law at Universidad Panamericana in Mexico City, Higuera first worked for a Big Law firm. He then tried his hand at litigation with a firm that specializes in constitutional appeals.
Shortly before graduating from law school, he decided to follow in his family's footsteps and join a tax law boutique, where he was able to use his new skills to establish himself in the firm's tax litigation practice. After completing an advanced LLM in International Tax Law at Leiden University in The Netherlands, he returned to his alma mater to teach the school's International Tax Law course to law students.
Despite thriving professionally since becoming licensed to practise law in Mexico in 2015, Juan Higuera harboured lingering concerns about security in his home country.
"When my daughter was born in 2019, that was the catalyst for me and my wife to decide to move to another country, somewhere that was safer," he says.
Canada was the natural destination, in part because of the warm feelings Higuera had developed for the country during a yearlong high school exchange back in the mid-2000s, at the height of the Harry Potter boom. With its spacious grounds and 19th century buildings, he says Ridley College in St. Catharines was a pretty convincing stand-in for Hogwarts.
"It's a boarding school, and we were all sorted into houses. It was an amazing experience," adds Higuera.
Osgoode's Canadian Common Law LLM was also a fairly straightforward choice, he says, because of the way that its core courses are specifically designed to meet the requirements of the Federation of Law Societies of Canada's National Committee on Accreditation.
"Osgoode is also very flexible with its winter term start dates, which I thought was a big plus," he says. "Overall, it was a great way to get a comprehensive sense of the foundations of Canadian law, especially coming from a civil law jurisdiction, where there are some big differences."
Higuera says the transition to Canadian tax law was even smoother, thanks to its many similarities to tax laws in the U.S. and Mexico.
In addition to his studies, Higuera made an effort to network with local tax lawyers at the leading firms in the field, including those at Davies, where he now assists clients with a range of domestic and international tax matters.
"I had been practising law for a number of years, but practising at a Big Law firm in Canada brings a lot of new, exciting challenges. The stakes are high on every matter, so you have to bring your A-game every day," he says.
Juan Higuera would not hesitate to recommend Osgoode's Canadian Common Law LLM program to internationally trained lawyers looking to establish themselves in Canada.
"If you're able to do the full-time version, it's a streamlined way to complete your accreditation requirements, and you get to meet a lot of people from all over the world," he says. "I've developed some great friendships with classmates, and it's always nice to see my Osgoode colleagues in practice."
Want to learn more about the Professional LLM in Canadian Common Law? Sign up for an Information Session!