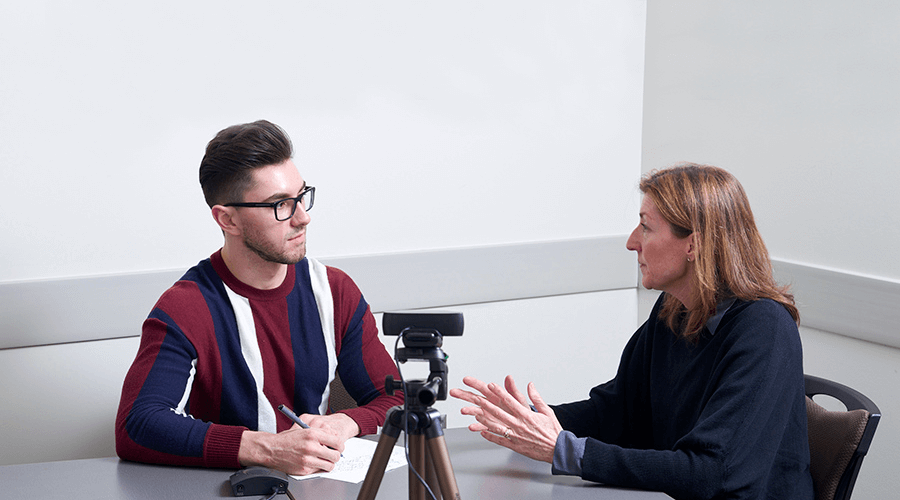 A recent paper by Rima Sirota highlights some of the gaps in CLE that OsgoodePD has been tackling. Sirota's paper points to the lack of research about the effectiveness of mandatory CLE and is particularly critical of CLE programs that rely exclusively on didactic lectures with little interaction, an approach that she observes does not align with adult learning principles. Using continuing medical education as inspiration, Sirota "suggests a particular focus for future work: CLE's potential to impact lawyers' ability to communicate effectively with their clients using client-centered techniques" (p. 27).
Communication training using client-centred techniques is something that OPD took on some time ago. With the help of Professor Paul Maharg, a world expert on simulated persons who joined the law school in 2017, Osgoode Hall Law School and OsgoodePD launched the Simulated Client Initiative to help law students and lawyers develop just these communication skills.
The Simulated Client Initiative is modelled on the use of simulated patients in medical education, a much-studied, evidence-based pedagogical model. Through the initiative, OsgoodePD trains simulated clients to both authentically simulate client interactions and assess participants' communication skills from a client-centred perspective. Maharg's simulated client pedagogy has been validated through research and focuses on providing useful and consistent feedback. Simulated clients have been used at OPD in the Certificate in Family Law Skills & Practice and in the Advanced Certificate in Workplace Investigations. The Simulated Client Initiative continues a long tradition of interactive, skills-based offerings at OPD, including our long-running Intensive Trial Advocacy Workshop, which just concluded its 42nd year, winning an award from the Association for Continuing Legal Education for its successful pivot online during the pandemic. Other offerings, such as our Certificate in Online Dispute Resolution, similarly focus on learning by doing.
More generally, OsgoodePD has made a commitment to continually improve our CLE offerings, with an emphasis on interactive, multi-day offerings that align with adult learning principles. Many of our staff have training in adult education, including Director of CLE Programs, Heather Gore Liddell who has a Certificate in Adult Learning from the Ontario Institute for Studies in Education at the University of Toronto. In addition, legal education specialist Audrey Fried works with OPD staff and instructors to design engaging programs that emphasize active learning, whether they are delivered in person or online.
Sirota's paper is a challenge to all CLE providers to create meaningful programs that change the practices of participants and improve the experiences of clients. OPD has eagerly taken up this challenge and continues to strive for excellence as it pursues its strategic mandate to "be at the centre of innovative design and delivery of professional legal education."
---