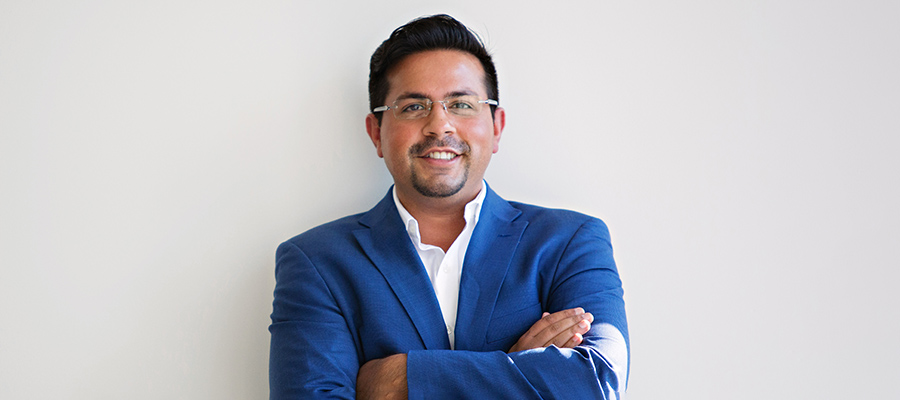 Imran Noorani's work history divides neatly around his 2018 graduation from OsgoodePD's part-time Professional LLM in Energy and Infrastructure Law.
"It actually had a pretty profound impact on my career track and my life," he says.
In his pre-Osgoode years, Noorani had already earned an MBA from York University's Schulich School of Business and quickly established himself in the energy industry, excelling first in a regulatory role at the Ontario Energy Board, and later in executive positions with a fast-growing company in the private sector.
However, by 2016, he was looking for a way to marry his passion for the industry to his lifelong interest in tackling climate change.
"I had always wanted to align my personal values with a career that matches, and the LLM allowed me to bridge that gap," Imran Noorani says. "I was able to develop the strategic thinking, sector leadership and business acumen I needed and put together a blueprint for my future."
"The end result was that I became an entrepreneur and innovator in the sector," he adds.
Soon after his graduation, Noorani was a co-founder of a Canadian clean technology start-up Peak Power Inc. which is built around software that enables batteries, buildings, and electric vehicles to perform as bi-directional grid resources, replacing the need to dispatch dirty carbon-intensive sources into the grid across North America.
More recently, he began working on another start-up, Inaru. This time, the aim is to transform the supply chain for cacao – starting at the source in the Dominican Republic – by building a vertically integrated ecosystem that covers everything from farming for climate resiliency, clean energy sourcing, equitable pay, and ensuring economic preservation in island economies.
"It's a place where clean energy meets food security and climate resilience," Noorani explains.
When potential LLM candidates reach out to Noorani, he has no hesitation in recommending Osgoode.
"It is my favourite of all the degrees I have done. I had so much fun during it, it's hard to believe that I was able to do something so academic that could be tied to my career in such a specific way," Noorani says.
His endorsement applies equally to both practising lawyers and non-legal professionals in the energy sector, Noorani adds, noting that one of the things that first attracted him to OsgoodePD's Energy and Infrastructure LLM was the depth and diversity of industry expertise among its faculty.
Through a combination of interactive discussions, practical problem-solving and focused research papers, Imran Noorani says that OsgoodePD hands its LLM candidates all of the tools they need to leverage their classroom experience into real-world professional networks, energy solutions, and career progression.
"The value you get out is directly attributable to what you put in. If you're just doing it to get three more letters after your name, then you're not going to get as much out of it as someone who has done their research and really thought critically about what they are trying to achieve," he says.
---
Want to learn more about the Professional LLM in Energy and Infrastructure Law? Sign up for an Information Session!