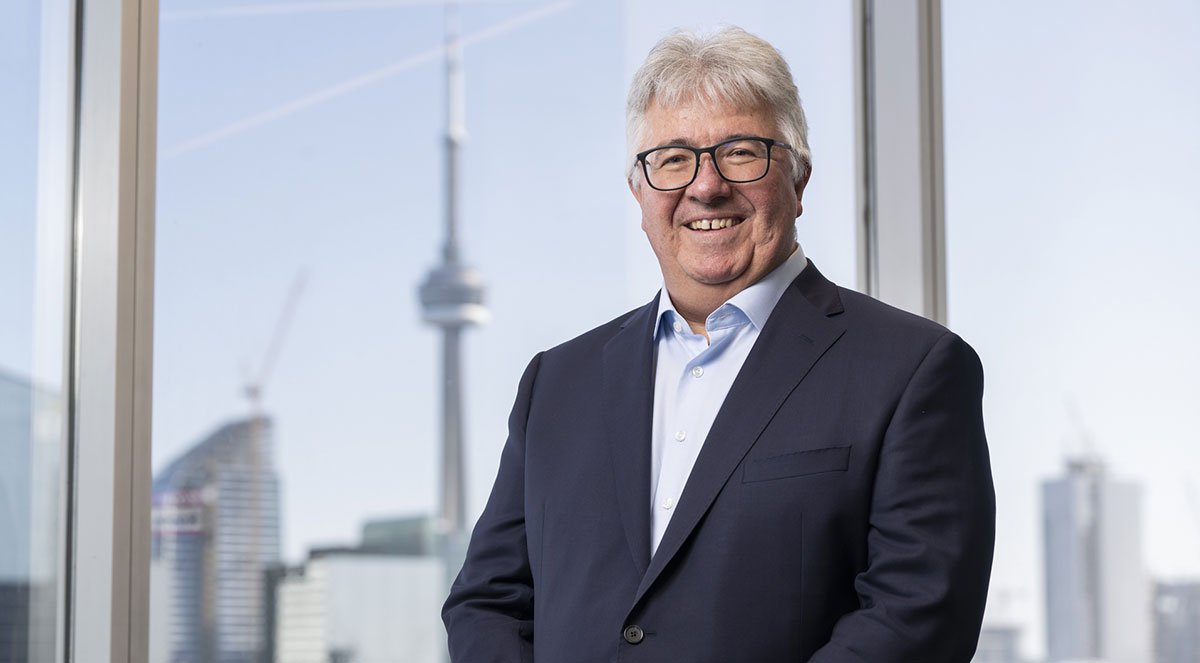 John Tobin's tax law career is about to come full circle.
This fall – more than three decades after he earned the course prize as a student in Osgoode Hall Law School's introductory tax law class – Tobin is set to start his role as co-director of OsgoodePD's Professional LLM in Taxation Law.
"I am a long-time supporter and friend of Osgoode," says Tobin, whose connection to the institution runs deeper than most.
Having firmly established himself in Toronto's tight tax law community – first as a partner at Borden Ladner Gervais LLP and later at Torys LLP after making the move across Bay Street – Tobin made his original Osgoode homecoming in the mid-2000s as a board member on the law school's alumni association, including a term as president between 2009 and 2012.
That stint not only earned Tobin a coveted Alumni Gold Key Award, but also sowed the seeds of his most recent return to the Osgoode community, thanks to the bond he formed with Prof. Jinyan Li, who was then serving as its interim dean.
Over the last decade, the pair have taught several tax law courses together and Tobin is now Prof. Li's co-director on the Taxation Law LLM program.
"Our approaches match up really well: I'm very practical and she has a deep understanding of the fabric of tax, which I think is a great combination," Tobin says.
Tobin cut his teeth in the corporate world early, working weekends with his brother at their father's business on tasks as varied as inventory accounting and equipment installation.
"Conversations around the dinner table centered around business principles and the challenges of running a business," he says, explaining that his own passion for mathematics inspired him to enrol in an undergraduate Bachelor of Commerce program.
"By the end of first year I realized that accounting was not as interesting as other aspects of business. In second year, I applied to law school and was accepted at Osgoode Hall Law School to pursue being a business lawyer," Tobin says.
This time, the fit was better. Tobin was inspired by legendary Osgoode Prof. Peter Hogg in first year constitutional law, leading Tobin to take Hogg's "baby tax" course.
"I loved how Prof. Hogg made tax understandable and relevant and the way that the principles of tax law married business advice, accounting, mathematics and advocacy. In my third year I specialized in business and tax courses and as I graduated, I was firmly convinced the tax law would be my future," he says.
At Torys, Tobin calls on his extensive experience in tax controversy, planning and transactional work to solve tax problems for a variety of public and private sector clients, including some of Canada's largest businesses and financial institutions.
Outside of the office, he is an active volunteer, devoting time to both the legal and broader community through his involvement with a number of organizations, including spells on the boards of the Canadian Tax Foundation, the International Fiscal Association, Rethink Breast Cancer Foundation and the Canadian Finance and Leasing Association.
Tobin felt ready to accept a new challenge at Osgoode following 10 years on the board of directors at Toronto's Michael Garron Hospital, having been Vice Chair and then Chair of the Board during Covid-19 and throughout the design and build of the Hospital's new $500 million Ken and Marilyn Thomson Patient Care Centre.
"Jinyan knew I would need a challenge following the exciting pace of overseeing the operation of a hospital and she timed it just perfectly."
And before the start of his first academic term at the helm, he has already made a mark on the Taxation Law LLM, after working with Prof. Li on a refresh designed to put a more practical spin on the course materials.
"We're bringing a new focus to the program that will emphasize not just the 'how,' but also the 'why' of tax policy and law," Tobin explains.
He says that the program's enhanced opportunities for experiential learning and roleplaying will equip students to tackle new tax problems they encounter in private practice, academics and government, or prepare them for new careers in the field.
"Jinyan and I are both very excited to get started and fulfil our role of developing Canada's future tax thought leaders," Tobin adds.
Want to learn more about the Professional LLM in Taxation Law? Sign up for an Information Session!