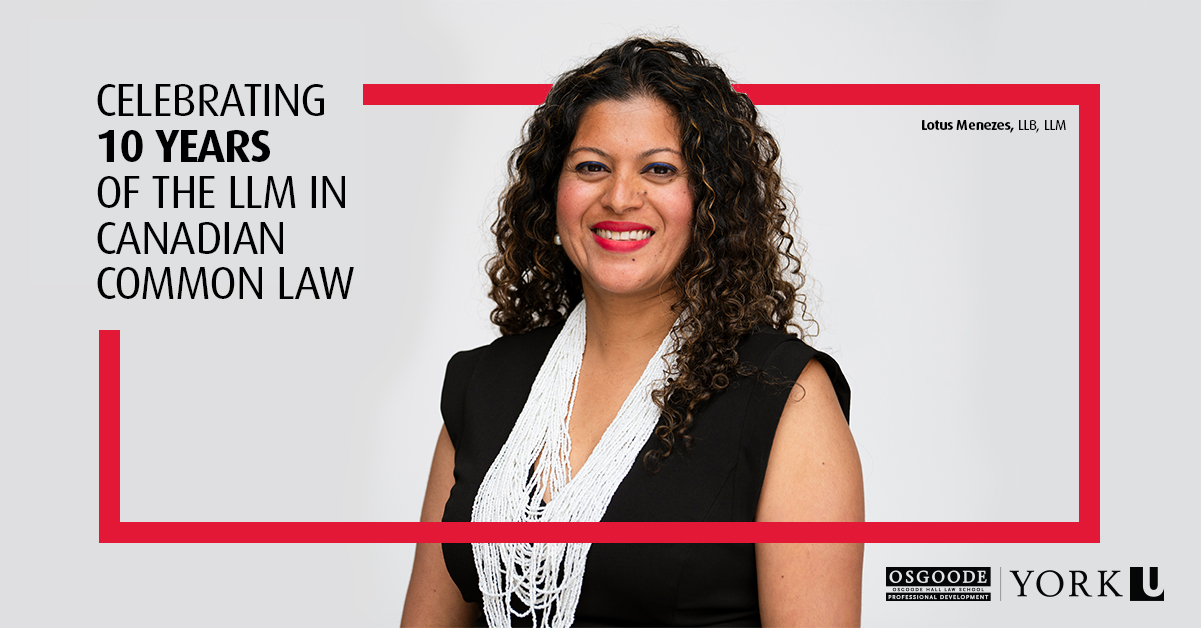 We had the pleasure of sitting down with Lotus Menezes, a recent graduate of the Osgoode Professional LLM in Canadian Common Law. Lotus comes from a commercial law background, working in Tanzania and South Africa. After taking some time off to become a mom, she wanted to switch directions, and tells us how she accomplished that using the resources at Osgoode.
---
Tell us about your international journey to-date.
"I began my career with Mkono & Co Associates followed by Denton (a UK-affiliated firm) in Tanzania working on corporate files, setting up business for international clients, as well as employment and business licensing in the mining, oil and gas sector."
After 3 years, an opportunity arose at Webber Wentzel, Johannesburg to work at the Africa desk focusing on mergers and acquisitions across Sub-Saharan Africa. After taking some time off to become a mom, Lotus continued her international journey and moved to the Dominican Republic for a career opportunity her husband couldn't pass up. A few years later, they arrived in Canada, and Lotus realized it was time to switch directions.
Why did you choose to pursue an LLM at Osgoode?
"After researching several institutions that provide internationally trained lawyers an opportunity to qualify in Canada, Osgoode came up as the most accessible and cost-effective program. As a mom of two that works full-time, I needed a flexible program that can be completed remotely. I was very impressed with how everything was handled from the inception of the course, providing access to all the resources online and continuous support at every level," Lotus explains.
What career and/or student support services did you find the most useful during your studies?
"Having one-on-one career discussions with Meghan Thomas, Director of Professional Graduate and International Programs as well as Michael Tam, Program Lawyer, was very helpful. With their guidance, I was able to pinpoint the direction I wanted to take in my legal career. Having just taken some time off to raise my young children, I returned to a new jurisdiction where I wanted to carve out a fresh direction that I would be both passionate about and would suit my current life circumstances," Lotus says.
"Having guided meetings that prodded the right questions was instrumental in pointing me in the right direction. Ultimately, it led me to an industry that has long interested me: Entertainment Law. I took a course in Copyright Law with Dr. Carys J Craig, even though it was not an NCA requirement and consisted of a heavy course requirement. Meghan and Michael helped navigate me towards my dream direction," explains Lotus.
Lotus shares one final piece of advice for incoming students at Osgoode:
"Look at this as an opportunity to reinvent yourself. The law is constantly evolving, and I feel fortunate to be able to re-engage and re-learn, adding to my experience and re-evaluating my career direction. The entertainment industry on the African continent is growing, and more expertise is required in the legal field to protect copyright and artists' rights and I hope that I can share my expertise in some shape or form soon."
Want to learn more about the Professional LLM in Canadian Common Law? Sign up for an Information Session!