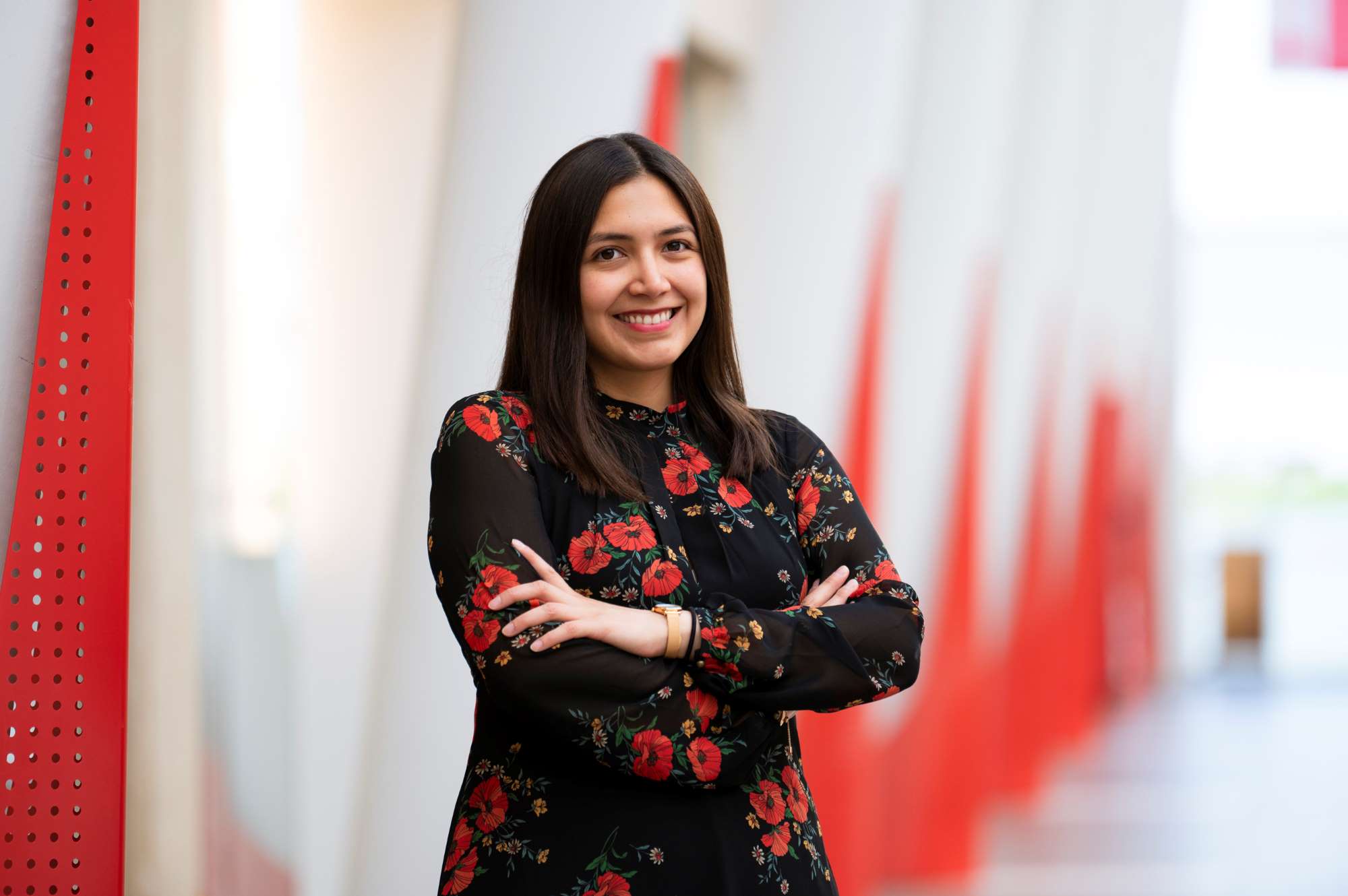 Maria Estela Anaya Reyes is not the type to shy away from a challenge.
Undaunted by the prospect of beginning Osgoode's Professional LLM in International Business Law in her second language, she touched down in Toronto as a fresh wave of COVID-19 infections were engulfing her new home city in early 2021.
---
"Coming to Canada was a big enterprise. I knew it was risky because of COVID-19 and all the other things going on," Anaya says. "If you stop and think about it for too long it could be overwhelming, but that didn't happen to me. I just thought about moving forward."
It wouldn't be the first (or last) time she defied expectations.
Back home in Peru, Anaya's decision to pursue a legal career raised eyebrows among several of her scientifically-minded relatives.
"Many of my family are in chemistry or medicine and related fields, and I was starting to follow a similar path," she explains. "But I found I'm better suited to building arguments, reasoning and other things that are more in line with a career as a lawyer."
After graduating from law school in Lima, Anaya continued to forge her own trail in the financial industry, working first for Peru's securities regulator. Later, Anaya made the switch to the private sector as legal counsel to a financial services company, where she was responsible for implementing the capital market rules and policies she had helped develop.
However, Anaya was eager to test herself on a bigger stage, and began exploring the possibility of pursuing an LLM degree in a country with more advanced capital markets.
"The Peruvian markets are still developing. The more complex deals are not really possible because the funds are not available," she says. "In a rapidly globalizing world, international experience is a must for any professional in business or finance."
Canada stood out as a destination because of this country's bi-jural legal system and its status as a global hub for business, according to Anaya, who says that Osgoode grabbed her attention thanks to its stellar faculty and impressive network of alumni.
"I researched a lot and found that Osgoode is highly regarded among Canadian law schools, not only by academia, but by the industry," she adds.
In addition to the support available from Osgoode's career advisors, Anaya says that the personal and professional connections she built during her LLM were critical as she established herself in the Canadian legal community.
"My classmates provided a very multicultural environment in class and out of it, and were happy to share their experiences and offer guidance," she says. "Since they were going through different stages of their careers themselves, the richness of their in-the-field experiences was outstanding."
Anaya's civil-law experience has come in useful as she embarks on her latest challenge in Montréal, as legal counsel to BNP Paribas, where she is busy adding a third language – French – to her repertoire.
Working on derivatives and master agreements in the global markets legal group, Anaya liaises closely with clients at the New York office and other international branches of the France-headquartered bank.
For any prospective international students hesitant about applying for an LLM from Osgoode Professional Development, Anaya has the same piece of advice she gave herself back in early 2021:
"I say just go for it," she says. "It's normal to be scared or have doubts, but you shouldn't let that deter you from achieving your goals."
Want to learn more about the Professional LLM in International Business Law? Sign up for an Information Session!