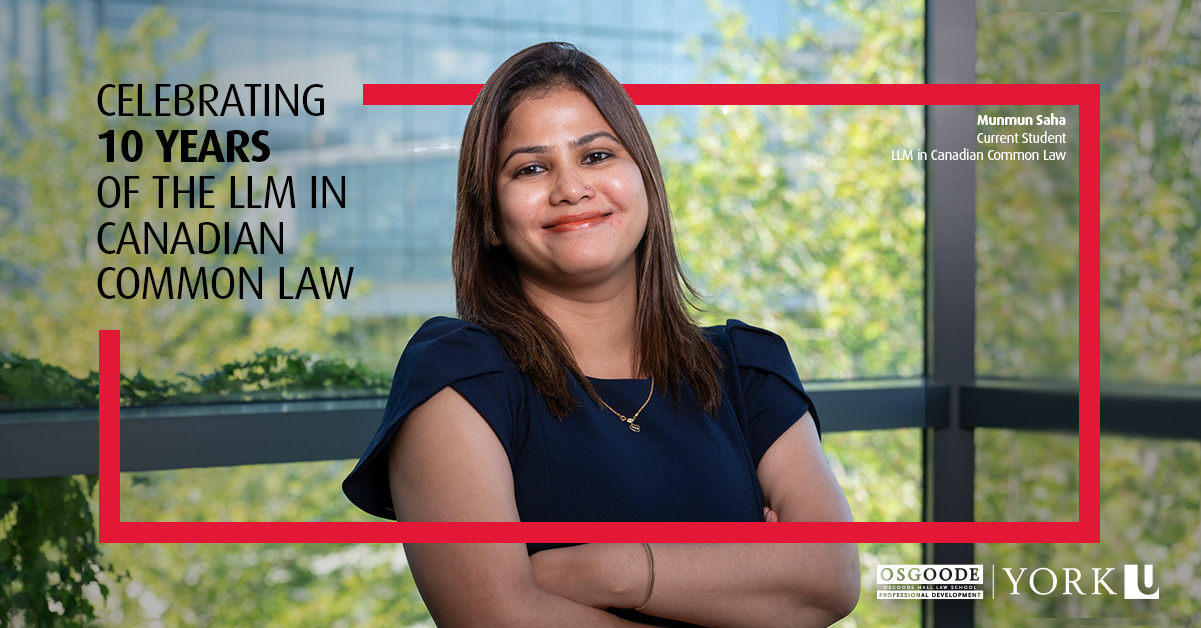 For Munmun Saha, the only thing that comes close to her passion for law is her love of television and pop culture.
Back in her native Bangladesh, the OsgoodePD International Entrance Award winner found herself naturally drawn to family law as she launched her career in private practice, under the tutelage of a senior practitioner in the still-developing field of divorce, separation and child custody.
"I loved those family issues, because of the TV soaps and family dramas that I grew up with," says Saha, who also found inspiration in films like Legally Blonde and television shows such as House of Cards.
"Throughout my legal studies, I always aspired to be a lawyer and I fulfilled that dream in 2013," she adds.
Saha beat out thousands of hopefuls to land a spot on the LLB course at the public University of Rajshahi via its extraordinarily competitive admissions process, before completing an LLM at the same institution.
Then, after lecturing for several years at a private university in the country's capital Dhaka, she decided to pursue her interest in Bangladesh's legislative process.
"I realized that the core of the law is found in the spirit of intention rather than in the letter of the law, and that knowing the legislator's genuine motivation can make the articulation of law much easier for a general audience," Saha says. "It motivated me to engage myself in the law-making process, where I could contribute to making the law more understandable for common people."
Putting her plan into action was not straightforward, but Saha again excelled in the highly competitive process to secure a prized role at the Ministry of Law, Justice and Parliamentary Affairs.
As assistant secretary (legislative translation), Saha's primary task was to translate all acts, rules, regulations, by-laws, notices and other important treaties and agreements from Bengali to English or vice versa.
"I also needed to look at different legal systems worldwide and figure out what the lawmaker's true motivations were for enacting such laws. After that, I applied my legal reasoning to improve the statute's required translation or language," she says.
"We're a very new country, and part of our job was to find similar laws in India, Pakistan, the U.S., Canada and other Commonwealth nations, and see how they could fit into our society."
In 2020, soon after joining the ministry, Saha was granted a year-long paid study leave in order to pursue a second LLM at the University of Illinois at Urbana-Champagne, giving her a close-up look at a society and legal system she had long observed intently from afar.
"My time at UIUC gave me a fresh perspective on American law and the judicial system and gave me an urge to learn more about common law countries such as Canada," Saha says. When she arrived in Canada two years later to enroll in Osgoode's Professional LLM in Canadian Common Law, Saha says it immediately felt like a "second home."
"I love this country and Toronto," she says. And not just because it provided the backdrop for another of her soapy favourites – the popular legal drama Suits.
---
Want to learn more about the Professional LLM in Canadian Common Law? Sign up for an Information Session!