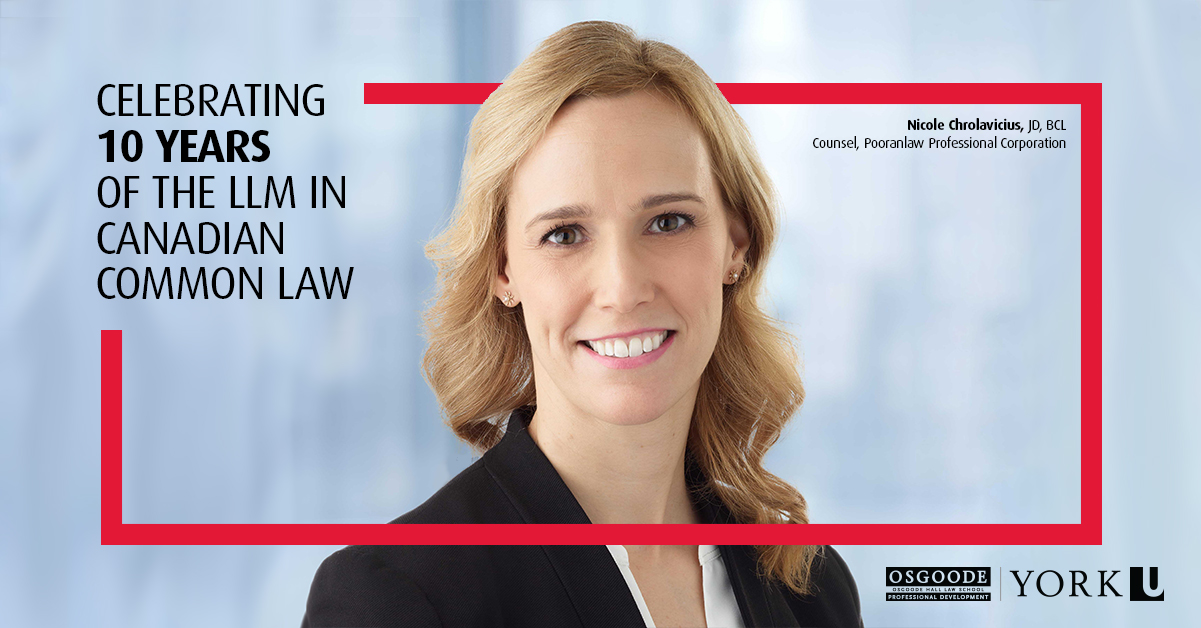 "I know when most people hear the words 'constitutional law,' their eyes probably glaze over," says Nicole Chrolavicius. But to her, there may be no area of law more fascinating, or more important.
"I always tell my students this field is all about power," she says. "How does society decide who holds power, and why? These are questions philosophers have been asking for millennia, and you just need to open a newspaper to see why it's relevant today. What we do is go back, and look at how jurisprudence has provided us a road map for answering those questions today and in the future."
Her career has been all about navigating that road map—though she's always done so to the march of her own drummer.
In 2001, fresh out of law school, well-meaning friends and colleagues urged her to take her talents to Bay Street. Instead, she headed to Ottawa to clerk at the Supreme Court of Canada. The move didn't promise a direct line to high-paying employment, but it gave her a chance to see firsthand how issues of national importance were litigated, day after day.
Afterwards, she ended up on Bay Street regardless, working in corporate litigation. But she soon detoured again, to study human rights law and legal philosophy at Oxford University in the UK. Those studies, she said, helped marry her love of law and philosophy—and set the course for the rest of her career.
She stayed in Britain for six years, working with NGOs and human rights organizations, and finally returned to Canada in 2006, becoming an associate with Bakerlaw, a Toronto-based firm specializing in social-justice cases.
There, she litigated a broad range of human rights-related cases. They included the case of Benamar Benatta, an Algerian refugee who arrived in Canada, via the United States, just days before 9/11. The coincidental timing resulted in Canada returning him to the U.S., where he was detained as a suspected terrorist. He spent five years in detention, passing through appeals and reviews.
"It just happened to be a gut-wrenching set of facts just as a human being," says Chrolavicius. "This is someone who has gone through something grossly unfair because he was in essentially the wrong place at the wrong time."
In 2017, Chrolavicius joined Osgoode as a lecturer in the LLM in Canadian Common Law. She says that stories like Benatta's, and other experiences from her lengthy background as a litigator, are what really impress upon students the importance of constitutional law. At Osgoode, her passions and past experiences—legal philosophy, constitutional law and human rights—have all come together. And the diverse backgrounds and experiences of her students, she says, only enrich her teaching.
"We have students from all over the world who bring such a unique perspective to every question," she says. "They come from all kinds of legal jurisdictions and draw on all experiences in their own professional and personal lives. It just makes for such a fascinating class experience. I feel like they learn from each other, and I learn from them, as much as they learn from me. It's an incredible place to be."
Want to learn more about the Professional LLM in Canadian Common Law? Sign up for an Information Session!