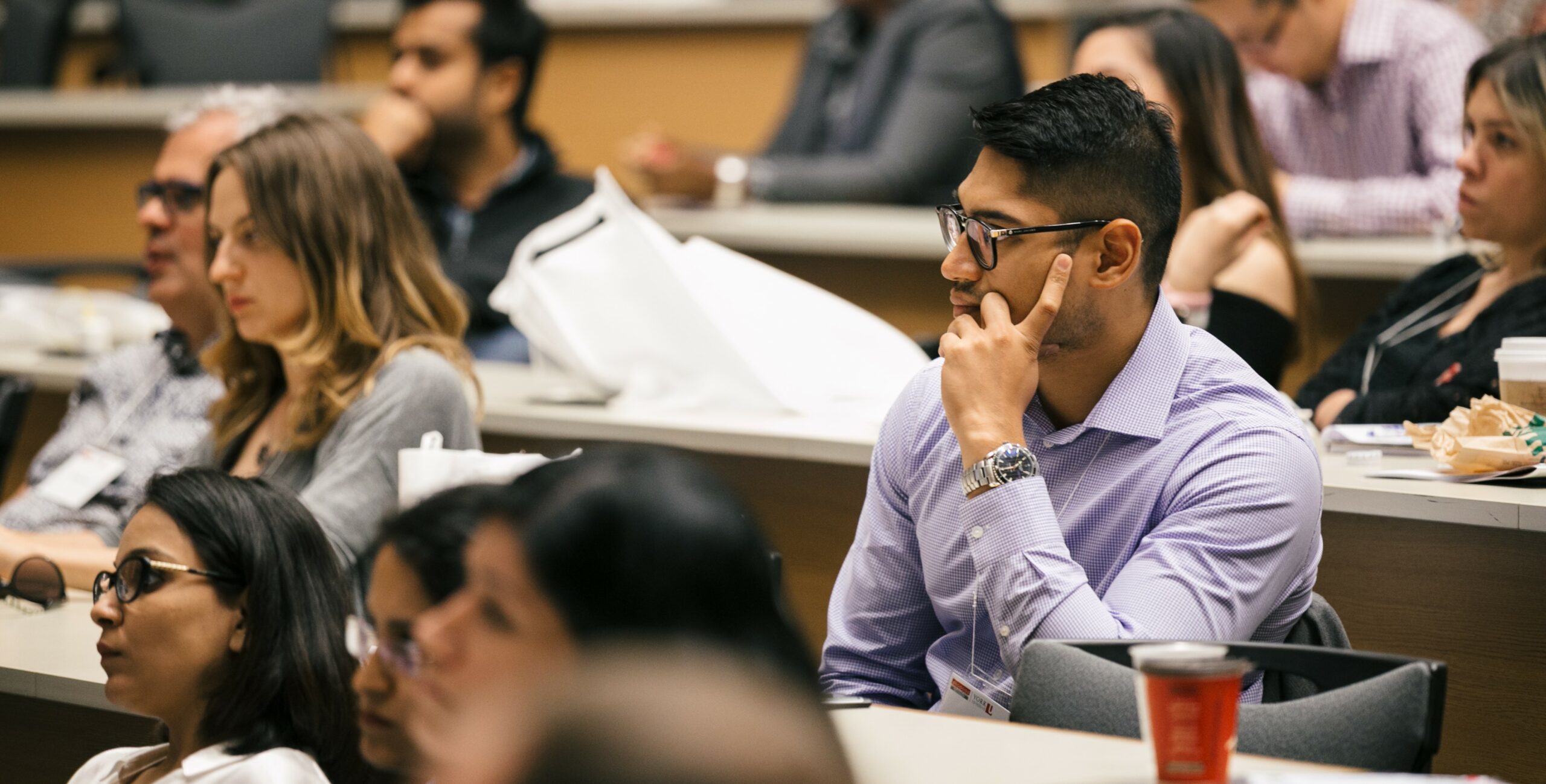 When asked why to choose Osgoode's LLM in International Business Law – current students and alumni mostly mention their unforgettable internship experiences and the flexibility this specialization allows.
We caught up with four alumni to see the varying paths the LLM has taken them. Family Lawyer Arifa Chanda, FSCO Articling Student Mohit Malhotra, TD Securities Contracts Specialist Chiedza Museredza and Condominium Lawyer Rajnoop Kaur sit down with us to discuss their day-to-day work and how the Professional LLM helped them get to where they are now.
---
Arifa Chanda, B. Sc., LLB, LLM, Associate Family Lawyer, Pavey Law LLP
Since completing your LLM in International Business Law, what has your journey been like?
After finishing my LLM, I applied to the National Committee on Accreditation (NCA). It took me a year to complete my NCA courses as I was working part-time to support myself financially. Further, I considered it overwhelming to take all my NCA exams in one sitting. In hindsight, my advice to the foreign qualified lawyers who want to practice law in Canada is to apply to the NCA at the beginning of their LLM, take advantage of selecting their elective LLM courses as required by their NCA assessment, and focus on finishing NCA courses as quickly as possible.
In March 2015, I completed my NCA courses. In August 2015, I joined the Law Practice Program (LPP) at Ryerson University. During the LPP, I wrote the Ontario bar exams one-at-a-time. I graduated from the LPP by the end of April 2016 and in June 2016 I was called to the Ontario Bar.
After my call to the Ontario Bar, I moved to Northern Ontario and worked as an Associate with a seasoned lawyer for a year and a half. Currently, I am an Associate Lawyer with Pavey Law LLP in Cambridge, Ontario, and mainly practice in the area of Family Law. The nature of my work ranges from drafting and negotiating separation agreements, cohabitation agreements and marriage contracts to also representing clients before the courts in matters related to custody, access, support, and division of the net family property.
How did having the LLM in International Business Law help you?
The LLM helped give me and my employer confidence that I am knowledgeable about the Canadian legal system after having studied at a reputable Canadian University. My internships at the Ministry of Economic Development, Trade & Employment and Ministry of Research and Innovation – which I secured through the program – also gave me an advantage. My employers know that although I did not go to law school in Canada, I have been working, and have experience in the Canadian legal environment.
Further, some of the courses I took in the LLM help me to identify issues and seek appropriate help. For example, when I am dealing with a client who owns a cross-border business, I understand that there will be taxation issues and the involvement of a tax consultant will be required.
The opportunity to meet foreign qualified lawyers from different parts of the world and making connections was my favourite part of my LLM experience. My 'batch' had foreign qualified lawyers from countries such as Germany, India, South Africa, Nigeria, Bahrain, Saudi Arabia, England, and Pakistan.
What advice do you have for current and prospective LLM students?
My recommendation for students who want to practice law in Canada is to be open to considering work opportunities outside the Greater Toronto Area (GTA).
In smaller communities, there may be a lack of social activity, but they offer a lot of other good things. You don't have to wait too long for an opportunity to come along. It's a very different lifestyle outside of the GTA and you can really have the opportunity to pick and choose where you want to be. There is a real work-life balance in a smaller community.
After my call to the bar, I was staying with extended family in Northern Ontario. I decided to start looking for legal positions in the same town. The reaction of the local lawyers in my town was amazing; there is often a large portion of people who are close to their retirement age, so they are eager to look for someone to take over their practice.
My experience in Northern Ontario was wonderful – I even got on the panel of Legal Aid Ontario. I was able to get experience in so many different areas under the supervision of a great mentor. My experience in the courts was exceptional and I was very impressed with the courtesy and patience of the staff as well as judges.
Mohit Malhotra, LLB, LLM, Student-At-Law at Financial Services Commission of Ontario (FSCO), Ministry of the Attorney General
What is your current position at FSCO?
I am an articling student at the Legal Services Branch of the Financial Services Commission of Ontario (FSCO). As an articling student, I work within the regulatory fields of insurance, mortgage and pension law; the three most important areas of law which FSCO regulates. Within the insurance sector, I work on litigation as well as solicitor case files.
The litigation work is primarily related to the Motor Vehicles Accident Claims Fund (MVACF). Solicitor work is more geared towards reviewing and analyzing legal documents, legislative development and policy analysis. To be honest, at the start I was more interested in working on the litigation side, however, the solicitor work at FSCO is not just interesting but, very technical, high level, and at times fascinating, especially when you work on files which affect lives of every Ontarian (like Uber, Lyft, Sears pension plan etc.).
I also believe insurance is one such sector which is undergoing a complete revamp. The next five years would completely change the way we think of automobile insurance, especially with the introduction of automated vehicles, ridesharing, vehicle sharing etc. The opportunity of gaining the first-hand experience of how policies/legislation for such new technologies are drafted from ground level and up is an incredible learning experience for a young aspiring lawyer. Just imagine, a fully automated car hits into another automated car. Who is responsible? The driver? Car manufacturer? Or the automated technology provider? Interesting times are ahead!
How did you use the career resources at Osgoode to your advantage?
I strongly, and honestly believe that I am where I am today because of the opportunities that were offered to me by Osgoode. While pursuing Masters in International Business Law, Osgoode offered students an amazing opportunity to apply for summer internship positions within the Ministry of the Attorney General and at various big law firms, including a few Bay Street law firms. I used this opportunity to get my foot in the door. Believe me, once you are there, it gets relatively easier to get shortlisted for interviews; and that is what matters when you are applying for highly competitive positions (articling positions).
Apart from the internship program, Osgoode also offers career workshops. In my case, I was guided by Meghan Thomas and Michael Tam throughout the application process. They reviewed my cover letters and resume at different points in time, and provided me with their valuable feedback. I still remember I had 4-5 counseling sessions with Michael Tam before finally applying for the summer internship positions. Career opportunities provided at Osgoode are very helpful and it is a great learning tool at your disposal. I would recommend every student at Osgoode to take full advantage of it and make the best out of it.
What was your favorite part of your LLM internship?
For me, the application process was my greatest learning experience. From drafting my cover letters to preparing for interviews, I gained so much out of the entire process. If I remember correctly, I was interviewed by 10 different law firms and Ministries in total. This helped me hone my presentation and communication skills and boosted my confidence. I am sure this also helped me while applying for articling positions.
Also, the overall experience of working at the legal services branch of the Financial Services Regulator of Ontario for almost 12 weeks was an incredible learning experience. I still remember my first week at FSCO, I was already working with senior counsels in their respective areas of law, and assisting them with some of the most confidential and intricate case files.
Chiedza Museredza, B Soc. Sci., LLB, LLM, Articling Student, McMillan LLP (formerly: Contracts Specialist, Derivatives at TD Securities).
What is your current position at TD?
I am contracts specialist working with the Derivatives group at TD Securities. We are currently working on a project that entails codifying the bank's derivatives agreements. My role is to extract the relevant data from the bank's agreements governed by mostly New York, English and Japanese law.
Tell us about your journey – how did your LLM help you get to where you are now?
My LLM helped me get a foot in the door of the Canadian legal market through the internship program. I worked for a Bay Street law firm during my LLM which equipped me with the basic skills that are required to practice big law. It also allowed me to tap into the network of Canadian lawyers on Bay Street who are my mentors today. My internship opened other doors for me, including my current job.
What was the most valuable thing you learned in your LLM internship?
Network: The legal market in Toronto is saturated with talented law graduates from Canada and abroad. It is extremely competitive. Foreign trained lawyers or law graduates have a more difficult time starting their career. Networking helps foreign trained lawyers or law graduates overcome the hurdles they face. The lawyers you meet during your internship typically become your champions who will serve as your references when looking for jobs and career direction.
Work hard: You can network well, but if you don't work hard and produce results no lawyer will recommend you as this puts their reputation at stake as well.
Share your experiences from your home country / the country where you studied your Law degree: Some people tend to shy away from that, but this is the strength that foreign-trained lawyers or law graduates have. They have other experiences that not many in their office will have. Who knows, it may be exactly what the law firm is looking for.
Where do you see your career progressing five years from now?
I hope that five years from now, I will be counsel for tech startups focusing on Fin-tech and Artificial Intelligence or private equity firms that fund such companies.
Rajnoop Kaur, BA (Hons.), LLB, LLM, Commercial Real Estate and Banking & Finance Lawyer, Dentons (formerly: Condominium Lawyer at Fine & Deo)
What do you do in your current position at Fine & Deo?
I am a Condominium Lawyer at Fine & Deo Condominium Lawyers. My legal practice focus areas are Condominium Law, Commercial Real Estate Law, Employment Law and Civil Litigation. On an everyday basis, I advise condominium corporations as well as condominium unit owners on their legal rights and responsibilities with respect to all areas of condominium law. I have also represented clients at the Landlord and Tenant Board, Small Claims Court, Superior Court and Divisional Court.
What is your background? What were you doing before the LLM?
I was born and brought up in India. I have an Honours Bachelor of Arts in Political Science [BA (Hons.)] and Bachelor of Laws (LLB) from University of Delhi, India. Prior to pursuing my LLM at Osgoode, I was working as a law clerk to the Honorable Justice Mr. Rajiv Narain Raina, at the Court of Appeal for Punjab and Haryana, in India.
What lessons from the LLM in International Business Law can you apply in your day-to-day work?
Even though I am not currently working as a business lawyer, there are a number of lessons I had learned during my LLM that I apply in my day to day work as a condominium lawyer:
Meeting deadlines: Being attentive in class has now transitioned to being attentive at client meetings and lawyer's meetings.
Taking notes: We all know how important it is to take down notes during a class. It is equally important to take down notes during client meetings, conference calls with clients, meetings with other lawyers, etc. No matter how much we think we can retain all the information in our head, my LLM taught me that I will eventually miss out on vital information if I don't write it down. So, I always roam around with a notepad and a pen, no matter where I go.
Give your best to whatever you do: Just like LLM assignments were reviewed by professors, similarly as a junior lawyer, most of my work is reviewed by senior partners. Therefore, it's important to always give your best to whatever you draft or do. Your name is your reputation in this profession.
Being polite and professional: When I came to Canada to pursue my LLM, it was the first time I was exposed to people from all parts of the world and of different age groups. A work place is very similar. The LLM in International Business Law has taught me to listen to what people say, without focusing on how they say it and with which accent. It taught me to be polite, respectful and professional when dealing with my classmates, which has led me to be same way with my colleagues, ultimately resulting in a positive and cordial work environment for everyone around.
How has having the LLM helped you get to where you are today?
Having an LLM from one of the most prestigious educational institutions of Canada has definitely helped me in securing a job as a lawyer in Canada. It has given me an edge over my peers with a traditional JD degree. Having an LLM also showcases my commitment to my educational and professional growth as an individual.
Want to know more about the LLM in International Business Law? Sign up for an Information Session!