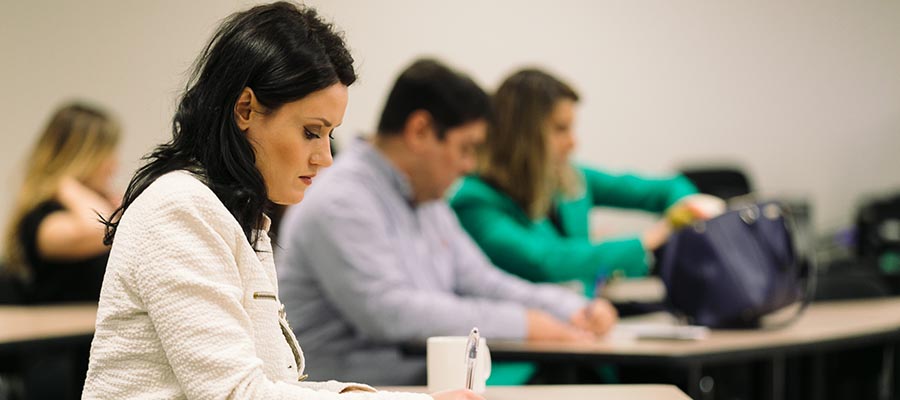 Tell us about your professional development journey, and how it's ultimately led you to your current position at McCarthy Tétrault.
Before moving to Canada in 2015, I practiced civil litigation in Greece for a few years, while completing an LLM in civil procedural law. By the time I left Greece, I had handled claims of significant value and complexity. Although I enjoyed litigation, I realized that claims can drag on for years before they are resolved or settled. Thus, my final LLM. thesis in Greece focused on ADR, specifically mediation. This further sparked my interest in educating myself on proactive rather than reactive ways of practicing law.
Also, having worked at a boutique litigation firm I was exposed to the business of law early on and quickly realized the importance of knowledge management, capturing and analyzing productivity and profitability data, and employing technology to increase efficiency and lower costs. I used this exposure to segue into co-founding an online platform that streamlined lawyers' collaboration irrespective of their business location and allowed legal professionals capitalize on each others' expertise, without having to engage someone full time.
It was this experience that led me to apply to the Institute for the Future of Law Practice, which Osgoode had partnered with, and spent 3 weeks at the Northwestern Pritzker School of Law, immersing myself into lean six sigma training, legal process management, legal technology, data analytics, and valuable T-shaped lawyer skills. I then had the chance to apply and build on this knowledge during my internship at Bennett Jones LLP, where I worked with Corporate Knowledge Management lawyers in commercial real estate and private equity-related projects focusing on the use of due diligence and other legal tech tools for corporate law.
While in my last term at Osgoode, I started working with the Clients and Markets team at McCarthy Tétrault LLP. Being involved on numerous projects, I engaged directly with lawyers and became familiar with their work in various areas of law; I learned about and applied project management skills; I was often entrusted with high-impact projects and was encouraged to share my thoughts; I better understood that success is not a "one-man show" but relies on effective synergies among several groups within an organization.
I completed my professional LLM at Osgoode and wrote the remaining NCA exams, I passed both bar exams and completed the 4-month practical training component of the Law Practice Program (LPP) at Ryerson University. Describing my schedule as 'hectic' would be an understatement but I was fortunate to receive my colleagues' and family's unwavering support that greatly helped me achieve my goals.
The excellent Law Practice Program provided me with invaluable, well-rounded training that not all students receive during "conventional" articling. By the end of the practical training component, I was offered to complete my work placement at McCarthy Tétrault, where I intend to engage in projects revolving around business law, technology law and fintech.
At Osgoode I took courses like Patent and Trademark law, Biotech and Health law, Energy and Infrastructure, as well as International Finance and Securities law. The program allowed me to interact with leading practitioners and academics in the above areas, be it instructors or other students. I am still in touch with many of my instructors, who have been selflessly providing me with their mentorship. Equally important is the network of friends and colleagues I developed while attending the program. I met friends whom I now consider family. Also, half of the jobs I have landed in Toronto came through my peers. Although experience certainly matters, personal contacts who can vouch for you is key to professional development.
I intentionally followed a path slightly different than the one most of my peers took: while the obvious choice would be to pursue the Canadian Common Law LLM to fast-track the National Committee on Accreditation (NCA) process, I opted to leverage my studies to explore my true interests, make strategic connections in the legal industry and redesign an innovative law practice in the tech hub that Toronto is turning into. Coming from a civil law jurisdiction, I took the minimum number of courses through Osgoode that the NCA required me to, and focused the rest of my credits on delving into the areas I was truly interested in. That, of course, had its side-effects. I was tackling two jobs while writing the rest of the NCAs on my own and studying hard to maintain a high GPA at Osgoode.
Also, a few months into my LLM, I joined IPilogue, Osgoode's online IP blog, as a contributing editor. I blogged extensively on technology law, including commercializing data, the impact of machine learning and automation on the legal system et cetera. This experience allowed me to discover new interests, particularly tech law. It also taught me about the importance of using plain English in legal writing. I realized that, while in Greece legal drafting was all about long sentences where you can showcase your rich vocabulary, the interest now had shifted toward how fast and concisely you can deliver your point and the clarity of your message, that is, quality over quantity.
Moreover, I sought opportunities to engage with my instructors academically. I wanted to delve into topics I thought were fascinating, including biotechnology. This led me to work as a Research Assistant for one of my professors and conduct research on the implications of the Assisted Human Reproduction Act as it relates to stem cell research, I also contributed to two of my professor's peer-reviewed publications through which I gained great insight on how much work and endless revisions are required to produce high-quality legal articles.

To sum up, Osgoode provided me with numerous resources, which I encourage all current students to make good use of. The administration made a genuine effort to accommodate my needs and consider my interests and helped me design a program that reflected those. Without this support but also hard work on my end I would not be where I am today.
Where do you see your career progressing five years from now?
It has not been a straight line to what I personally define as "success". What this has taught me, though, is that being flexible and using the opportunities you are presented with at given junctures can lead to fascinating paths and a re-defined sense of achievement. I have enjoyed working in fast-paced environments and I am constantly challenging myself. This experience has reshaped not only my career but who I am and how I react to various scenarios in life. In addition, working with intelligent, driven and kind professionals has taught me humility. This has allowed me to rethink the quality of the professionals I want to work with, the environment I can thrive in and the goals I want to achieve. I see myself always working hard towards being outstanding at what I do while maintaining the sense of duty a job in the legal profession instills in me as well as coming up with innovative approaches to making a difference in the lives of my clients and my colleagues.
Want to learn more about the Professional LLM in Intellectual Property Law? Sign up for an Information Session!