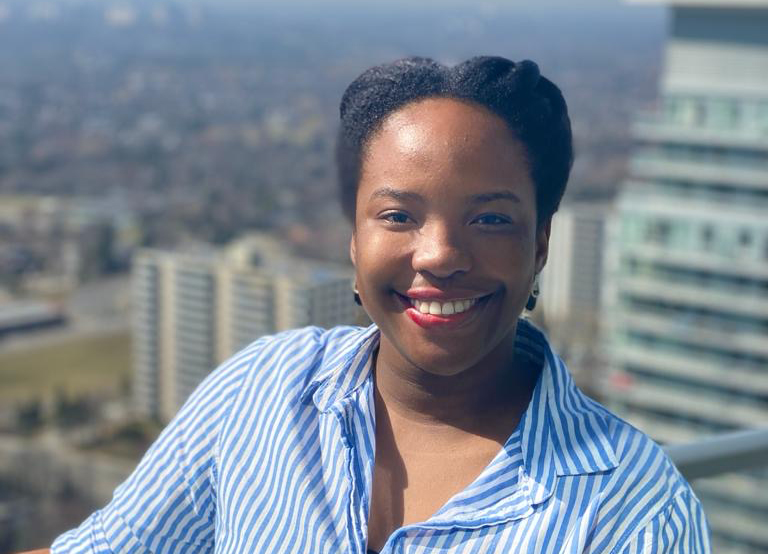 We sat down with Boluwatife Awe, a Current Student Ambassador (CSA) in the Intellectual Property Law program, to learn more about her, her experience in the LLM, and what she's getting out of it all. Read on to learn more.
Tell us a bit about you and what you do.
I'm from Nigeria and I'm currently taking the Masters in Intellectual Property Law at Osgoode. I have an LLB in Law from Nigeria. I started my career as an in-house counsel in the Media and Entertainment Industry, worked in the law firm environment, and currently work as a legal operations executive for a legal tech company.
In my day-to-day job, I report to the Head of Legal Operations. My responsibilities include working on Canadian and US related matters, client interfacing, preparing, drafting and monitoring applications, and being an essential point of contact for trademark-related questions.
Can you say more about your research and discernment process around the LLM? Why this particular degree?
I started studying IP because in my first job, in the entertainment industry, I got exposed to a lot of IP-related issues. I really wanted to gain more understanding of IP rights, to understand what could and couldn't be protected.
As an in-house counsel, Contract Management and IP was something I really enjoyed. I didn't really take any course on IP in my LLB, so I thought I would pursue it in my Masters.
Why I decided to go for a Masters? Well, as an internationally trained lawyer moving to a foreign country, I felt pursuing a Canadian degree will help me in the job market. So, it was like "Okay, maybe I should do this now." Also, coming from a different jurisdiction, I knew things differed in practice. I wanted to understand the concept of IP in this jurisdiction and learn the differences.
What expectations and concerns did you have? What did you discover upon actually beginning the degree?
Well, I wasn't sure how well I'd juggle a part-time course with a full-time job. I'd been out of school for a while! It's a bit difficult because I had to put in more effort and be determined. Another thing was the schedule – the back-to-back hours of an intensive course. It wasn't something I was used to, but something I needed to adapt to. I guess in life, if it's something you really want, you just have to go for it.
Regarding expectations, I just wanted to learn and to understand. I knew the program was quite advanced. During my IP Theory class, I got a better understanding of what jurisprudence was than I got in my LLB. Maybe it's just because I'm older now! But my lectures were fantastic. Obviously, it was during the pandemic, so we all had to adapt and ask questions, but Professor Craig was amazing. I have a better understanding of IP concepts than when I first started the program.
Tell us a bit about your student life and classmates.
I've done three IP courses so far. I really want to be an in-house lawyer and took a course outside my specialization just to learn. The thing about being an in-house lawyer is that you tend to wear different hats. I took Corporate Transactions from Business Law. It just depends on what you want!
My classmates bring an amazing dynamic to class. Some are non-lawyers… we have patent agents with science degrees. The lecturers have done a good job to balance all of our interests and explain the essential concepts that one would need to understand. You don't necessarily need to have a law degree – you can grasp the main concerns that help you understand copyrights without one. Even if you're confused, you could always ask questions and the lecturers would be more than happy to explain or point you toward more resources. Even the assignments aren't necessarily focused on law.
In IP Theory, it was more about jurisprudence. It has really been amazing, because the non-lawyers were able to bring a different dynamic to the class. I had a classmate who worked for Disney who brought a different dynamic and experience. We were talking about movie licensing, and we realized that there's a difference in practice between the law and the industry. So, it's nice having non-lawyers in the class.
Do you have a favourite course?
I'm going out for second year, so I wouldn't say I have a favourite course just yet. But, there was something I never thought I'd enjoy, and it was Patent Law. I'd never done it before. I enjoyed it and would recommend it to anyone, even if you don't have a science background.
I'd give the instructor, Don Cameron, 100%. For someone like me, without a science or engineering degree, it can be technical, but I did it and was able to understand it and can have a conversation about it. I'm not an expert in it, but given that it was something that I was afraid of, I left that course confident. If it comes up on the job, I can have a conversation about it.
What would you say to a prospective student?
Come with an open mind. Do your best, as much as possible. Dig in. Copyright could be fun – there are some days we laugh together with Professor Craig and we play music. It's doable and you'll learn. It's a lot to take in, but come with an open mind, ready to do the work. I struggled with this as I always do things last minute. I procrastinate! But, if I wanted to take the most out of the course, I had to prepare. Even the non-lawyers pulled a lot of weight. You need to be able to put in the work and make sure you prepare ahead of time.
Is there anything more you'd like to remark upon?
Yes. Students should consider taking other courses that they think might be related, such as a privacy course. It's not directly related, but it is indirectly related. Consider other courses too – the school offers a wide range of electives. And network! Do that. You can add classmates on LinkedIn or WhatsApp.
Want to learn more about the Professional LLM in Intellectual Property Law? Sign up for an Information Session!