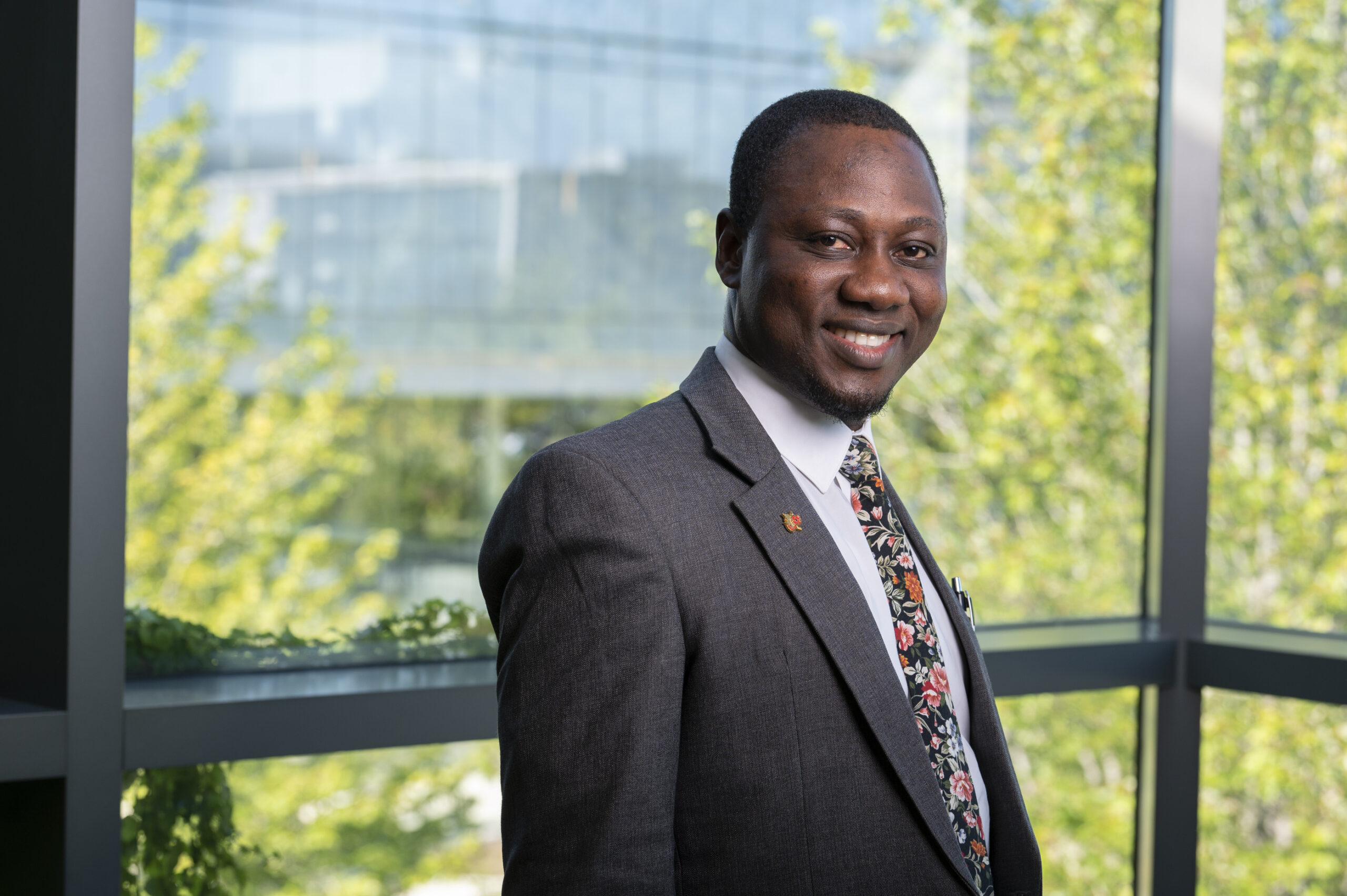 As a youngster in Nigeria, Fadahunsi Temitope found it difficult to choose between two visions of his future self:
"I knew I would either be a lawyer or I would join the army," says the OsgoodePD International Entrance Award winner, explaining that a closer look at the backgrounds of some of his biggest idols finally tipped the balance in favour of the law.
"I believe very strongly in human rights, and I have seen so many of my heroes struggle to fight for them – especially in Africa, but also in different parts of the world: Nelson Mandela, Mahatma Gandhi, Barack Obama and others," Temitope says. "Soon I noticed one thing that many of them had in common: they were lawyers. And that is when I started developing my own interest in law."
And the military's loss has proven to be the legal profession's gain – in little more than a decade since his 2011 call to the Nigerian bar, Temitope has certainly made a mark – heading up the litigation department of Lagos law firm Babajide & Olaopa , before founding his own practice to serve clients with their criminal law, human rights and civil litigation needs.
Alongside his busy practice, he has also found time to take an active role in local politics, working as a senior special advisor to honourable members at the Lagos State House of Assembly and serving on a committee that played a key role in drafting the state's landmark Child's Rights Law.
In addition, Temitope has made a number of notable contributions to Nigerian legal literature, including work on the emerging area of electronic or computer-generated evidence and its admissibility in court. At the other end of the modernity scale, he authored a book on Election reforms law, tackling some of the legal principles and governance issues surrounding Nigeria's centuries-old network of electoral laws.
At Osgoode, Temitope hopes to add another string to his legal bow by pursuing a research paper in the area of health law as he works towards his Professional LLM in General Law. The program allows students to combine two or three areas of specialization. In addition to health law, Temitope has also decided to focus on administrative law and Canadian Common Law.
He says Osgoode's offerings stood out among numerous international LLM providers, in part because of its extensive law library – the largest in Canada – and also because of way its core courses are specifically designed to meet the requirements of the Federation of Law Societies of Canada's National Committee on Accreditation, as he considers becoming licensed to practice in Canada.
"This is my first experience in education outside Nigeria, and there is no better institution. I did a lot of research before I finally picked Osgoode, and I was very impressed with its reputation for excellence and advancement in legal education," Temitope adds.
Although he is keeping his options open when it comes to his future practice areas in Canada, Temitope says the transition will be a smooth one, thanks to Nigeria's common law tradition.
"Looking at the two jurisdictions, I have noticed many similarities," he says.
And whatever the specifics of his ultimate legal focus, Temitope – a seasoned litigator and notary public who has appeared before various levels of court under state and federal jurisdiction in Nigeria – is looking forward to bringing his skills to Canadian courtrooms.
"I have a real passion for litigation. Appearing in court was a big part of my practice, so I feel very much at home there," he says.
---
Want to learn more about the Professional LLM in General Law? Sign up for an Information Session!