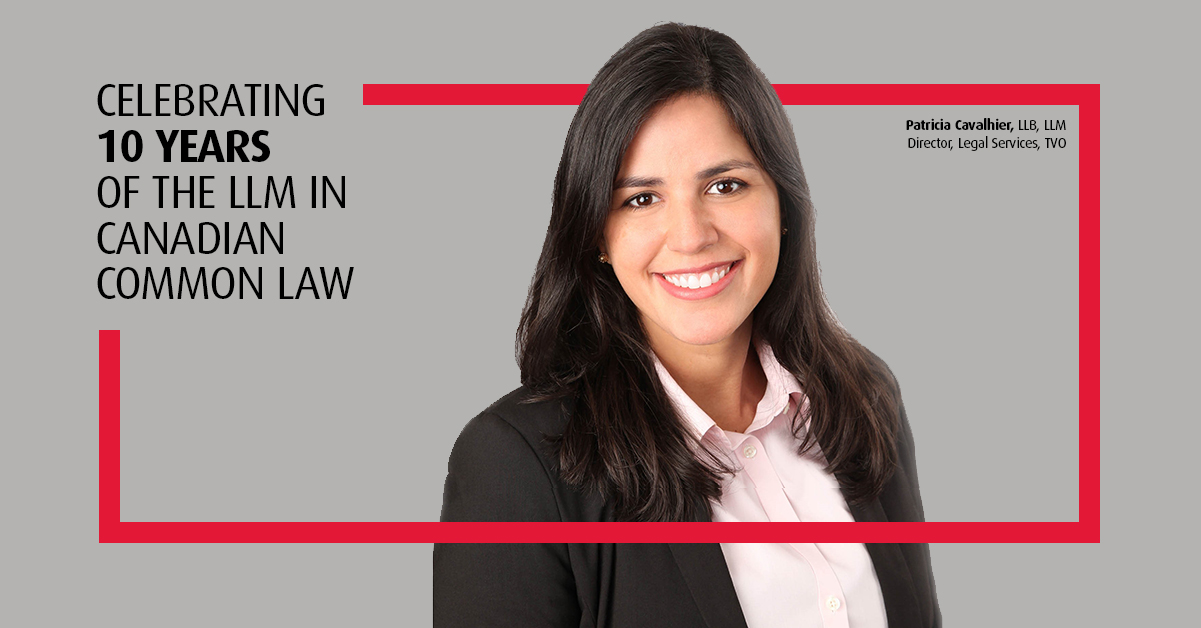 We had the pleasure of sitting down with Patricia Cavalhier, director of legal services at TVOntario and alumna of Osgoode's Professional LLM in Canadian Common Law to discuss her professional journey and how she got to where she is today.
---
Patricia completed her LLB at Universidade Católica do Salvador, in Brazil. Shortly after being called to the bar, she worked at a boutique law firm where she was routinely engaged on a broad array of civil and commercial disputes. Then she transitioned into the public sector and for few years she worked at the Bahia Estate Court of Justice, in Brazil as a legal counsel and mediator assisting parties to resolve civil issues in dispute resolution. Although Patricia found her work very fulfilling, she was ready for a new challenge: moving her family to Canada to get some international experience.
Coming from a civil law background, Patricia assumed that it would not be possible to have a career in law in Canada; Patricia used her legal career experience and business skills to secure a job in banking at Scotiabank.
Patricia did what it took to learn the ropes of banking in Canada, including taking a few courses at George Brown College to improve her knowledge of accounting fundamentals. Among the courses that Patricia took was an introductory Canadian law course, which would mark her first contact with law in Canada.
After thoroughly enjoying her class on Canadian law, Patricia resolved to pursue her legal career in Canada. With her employers' support, Patricia decided to apply to the LLM in Canadian Common Law, as a part-time student so she could continue to work full time.
When asked what advice she would give to someone considering the program she says, "I would advise to just go for it! Do not be afraid, take the opportunity and embrace the challenges that will inevitably happen, but do not be afraid, embrace the change. At OsgoodePD you will learn from the best!" It's a mentality that served her well, as a part-time student she successfully balanced her studies, work, and family.
"Osgoode's professors and colleagues were all so knowledgeable with years of experience," she explains. "The environment was palpable and motivated me to study even though I was a part-time student. Whenever I could, I would love to go to the Osgoode library to study and be with like-minded people because it always made me feel so motivated and ambitious."
After passing the Canadian Bar in 2021, Patricia accepted an offer to serve as legal counsel for TVOntario, a publicly funded educational television network and media organization. She now looks back on her time at Osgoode fondly and often, "I still use some of the resources and notes from my LLM program. I can't stop saying amazing things about this program!"
Want to learn more about the Professional LLM in Canadian Common Law? Sign up for an Information Session!