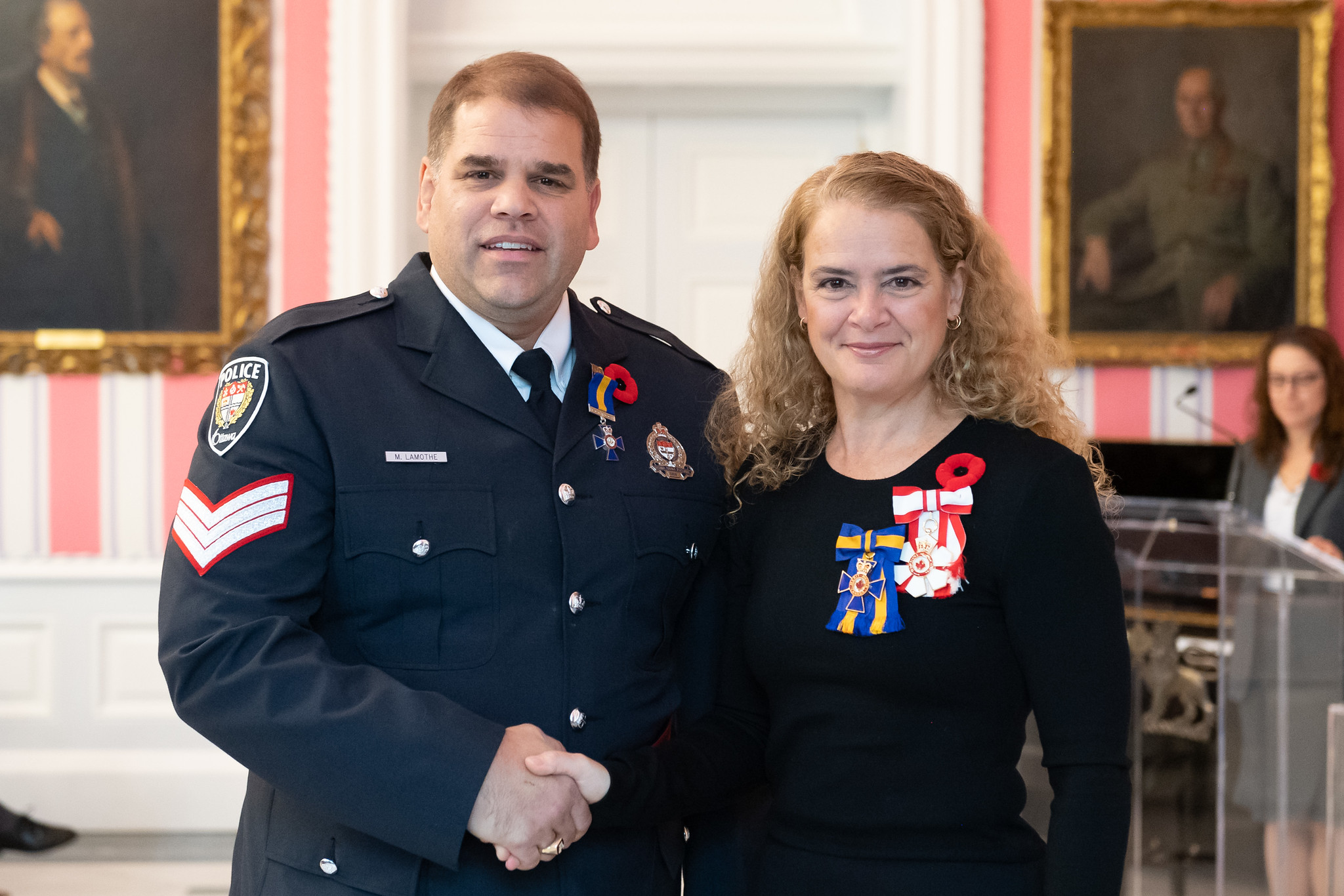 We had the pleasure of speaking with, Order of Merit of the Police Forces recipient and OsgoodePD alumni, Mike Lamothe to discuss his career and his impressive achievements. The Order of Merit of the Police Forces is a fellowship of honour based on the highest qualities of citizenship as well as, service to Canada, the police community and humanity at large.
Congratulations on receiving such an impressive award. You must have had a remarkable career to be an Order of Merit Recipient. When did you begin your career in the police forces?
I was hired in 1997 by the Ottawa Police Service after graduation from the University of Alabama with a Criminal Justice Degree. I wanted a career in which I could make a positive contribution to our community. Policing is a career that offers many different opportunities to help people.
How has your background and experience led you to become the recipient of this exceptional honour?
While serving in the OPS (Ottawa Police Service) mental health unit, I developed a template/protocol with Dr. Peter Boyles that was instrumental in assisting patrol officers, who had apprehended mentally ill individuals, along with doctors and nurses in the emergency room. This template has been copied by other police departments and hospitals, as it streamlines the intake process while saving time and resources. In July 2005 I presented the mental health template to the International Congress of Law and Mental Health in Paris, France.
Recognizing the importance of being engaged in the OPS, I sat on the committee that was the forerunner to the development of the Ottawa Police performance appraisal program.
As a Sergeant, I went beyond supervising and mentoring officers. My mentoring continues even today, as I still provide career and personal advice.
As a Sergeant of the High-Risk Offender Management section, I organized and developed the training curriculum for patrol officers, in regard to Mental Health calls. I also assisted other police organizations that looked to develop similar programming. As a result, the Ottawa Police Service was at the forefront of mental health and police deployment. I also organized a national mental health conference to bring together police officers and health workers, with the purpose of sharing strategies to address emerging issues in the community.
As a Labour Relations officer at the Ottawa Police Association, I demonstrated leadership in several important committees which has been critical to the success of the labour/management relationships enjoyed between the Association and the Ottawa Police Service.
Currently, I represent police officers and civilian members at hearings, conciliations, investigations, and negotiations. My success is not measured by the number of grievances I have filed, but rather by the numerous cases that has been resolved by working with the Ottawa Police Executive.
I have been invited to speak at several Police Association of Ontario conferences, educating the membership on current labour practices that affect both civilian and sworn members.
Did you face challenges throughout your career? How did you overcome them?
Over the years I have overcome many different challenges and obstacles I faced. Each time, I access the challenge in front of me and figure out a practical solution. Every barrier I have overcome has prepared me for the next challenge.
It's interesting that you decided to undertake an LLM in Dispute Resolution at Osgoode Hall Law School. Please tell me about that specific professional development journey.
Over six and a half years ago, I took on one of the biggest challenges of my career; I accepted a full-time seconded position with the Ottawa Police Association as a Labour Relations Officer. This endeavour was a massive change from my fifteen-year career in policing. This new assignment introduced me to the world of labour relations. Instead of the normal duties of a police officer, I was immersed into the world of collective agreement interpretation and enforcement, conciliations, arbitrations, and more generally, working with the Association's members along with the employer to protect, as best as possible, our members' rights.
Although I had no formal education in this area, I quickly grasped the practical elements of employment law and labour relations. I was fortunate to work beside our labour counsel who mentored me on labour law and rules of engagement. In a short time, I was writing conciliation and arbitration applications. I have also been heavily involved in the disciplinary side of representing police officers. I have acted independent of counsel and represented police officers at Police Service Act investigations. My experience representing police officers at Police Service Act hearings has provided me with insights that would benefit me in the master's program in Alternative Dispute Resolution.
A professional LLM in Alternative Dispute Resolution allowed me the opportunity to understand the theories and principles that have built the foundations of dispute resolution. This is the component that was currently missing from my formal education and what was required for me to excel in my role as a Labour Relations Officer. With this added knowledge, I was able to better represent both civilian members and police officers at hearings, conciliations, investigations and at negotiations.
Did anything about the program surprise you? Is there anything that stands out as a highlight?
The best part of the LLM program was the people I met in the class, as I learned from every single one of them through their willingness to share their personal experiences. This was very new to me, as typical police training and the culture of police tend to be very guarded.
Has the program had an impact on your career?
The program taught me to be a better listener and to be creative in resolving issues by understanding the root of the conflict. But most importantly, it taught me to take the time and talk to people and hear their story.
What is your advice to someone considering an LLM?
Get to know everyone in your class as their experiences can help with any job that you do. The diversity in life experiences is the biggest asset of the LLM program and it shows you that you can learn from everyone.
Want to learn more about the Professional LLM in Dispute Resolution? Sign up for an Information Session!
---
Mike Lamothe currently seconded to the Ottawa Police Association as a Labour Relations Officer from the Ottawa Police Service. He has been at the OPA for the last 6.5 years and represents 2000 members. Prior to this he was 15 years with the OPS and held the rank of sergeant.