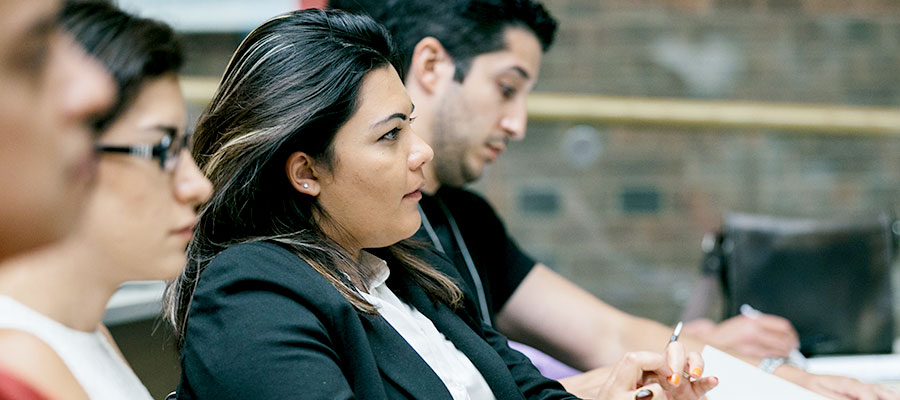 Fall marks one of the most exciting times of the year for OsgoodePD's International programs team as we welcome a new cohort of students. This year, we welcome over 100 full-time students to our Canadian Common Law, International Business Law, General Law and Tax Law programs. Having a student body with a diverse range of impressive personal and professional experience is a great point of pride for the International program team. We're excited to introduce you to a few of our new full-time students!
> Andrae Campbell
Program: Canadian Common Law
Birthplace: Jamaica
Andrae has an extensive computer programming and IT background; Andrae completed his BSc in Computer Science, obtained an LLB from the University of London, and spent over five years with the Jamaican Ministry of Justice working on projects including the implementation of a new case management system for the public prosecutions office. Andrae is now working towards the goal of uniting his wealth of experience in IT with his passion for law and the public sector, with the aim to eventually practice in cyber security or a similar area.
Why OsgoodePD? Growing up in Jamaica, Andrae had continually heard about Osgoode Hall Law School as one of the top law schools in Canada. Although he applied to several other universities, OsgoodePD was at the top of Andrae's list and he believed studying here would allow him the best chance of achieving his goal.
---
> Daniela Tribuj Program: Canadian Common Law
Birthplace: Argentina
Daniela Tribuj graduated in the top 1% of her class from the University of Buenos Aires, but when she arrived in Canada, there were limited options for internationally trained lawyers and law students to enter the licensing process and receive credit for legal experience and education. Daniela has since distinguished herself with 15 years of Canadian legal experience as a law clerk in the field of municipal law. Daniela is very excited to now have an opportunity to complete her National Committee on Accreditation requirements through OsgoodePD's Canadian Common Law program; leading Daniela towards her goal of becoming a qualified lawyer here in Canada, and an increased capability to do even more to serve her clients.
Why OsgoodePD? Being part of the Toronto legal community, Daniela has met graduates of the Canadian Common Law program who have spoken very highly about their Osgoode experience. By completing the Canadian Common Law program, Daniela will fulfill her NCA requirements while gaining exposure to expert faculty and instructors; providing Daniela an opportunity to distinguish herself as an OsgoodePD student and the esteem associated with that experience.
---
> Johannes du Plessis Program: Tax Law LLM
Birthplace: South Africa
After practising as an attorney in South Africa, Johannes spent the last eight years as a managing partner of his own law firm in Namibia, specializing in the fields of tax and commercial law. Johannes believes that an understanding of taxation systems, laws, and regulations provides the foundations required to fully understand the business principles and structures within an economy. The LLM in tax law will allow Johannes to gain an even deeper understanding in an ever increasing global context. Johannes hopes to expand his professional career in the areas of securities law and the Stock Exchange and through completing the LLM, establish himself as a respected liaison between Canadian listed companies and South Africa.
Why OsgoodePD? Johannes decided to take a sabbatical from his practice to delve deeper into his passion for tax law. The opportunity to be taught by tax industry leaders like Professor Jinyan Li, and to engage in class with other experienced and qualified peers was an opportunity only Osgoode could provide.
---
> Dr. Vivekta SinghProgram:International Business Law
Birthplace: India
Dr. Vivekta Singh has always held the view that education and learning are lifelong pursuits. Having grown up in a family of lawyers in India, pursuing an LLB was a natural fit. After graduating and gaining exposure to litigation and white collar crimes, Dr. Vivekta obtained an LLM in Criminal Law to enhance her understanding of criminal jurisprudence. During her practice, Dr. Vivekta argued cases at all levels of court including the Supreme Court of India. An involvement in mining and environmental law issues led Dr. Vivekta to pursue a PhD. in environmental law. Dr. Vivekta is now directing her passion for higher education and law towards Osgoode's LLM in International Business Law, to further enhance her legal career, knowledge, and expertise in the global arena.
Why OsgoodePD? Dr. Vivekta hopes that the LLM in International Business Law will prepare her to advise on cross jurisdictional legal issues and grow her practice with a broader, global focus. Dr. Vivekta could not pass the opportunity to study international business law with a top ranked university, under the guidance of leading practitioners and expert faculty; "It's an important part of being the global lawyer I want to become."
Head to the OsgoodePD website for more information on OsgoodePD's programs for internationally trained lawyers & sign up for an Information Session or Open House event today!
---
CHRISTINE BRIGGS is Manager of Professional Graduate Programs at Osgoode Professional Development.
---