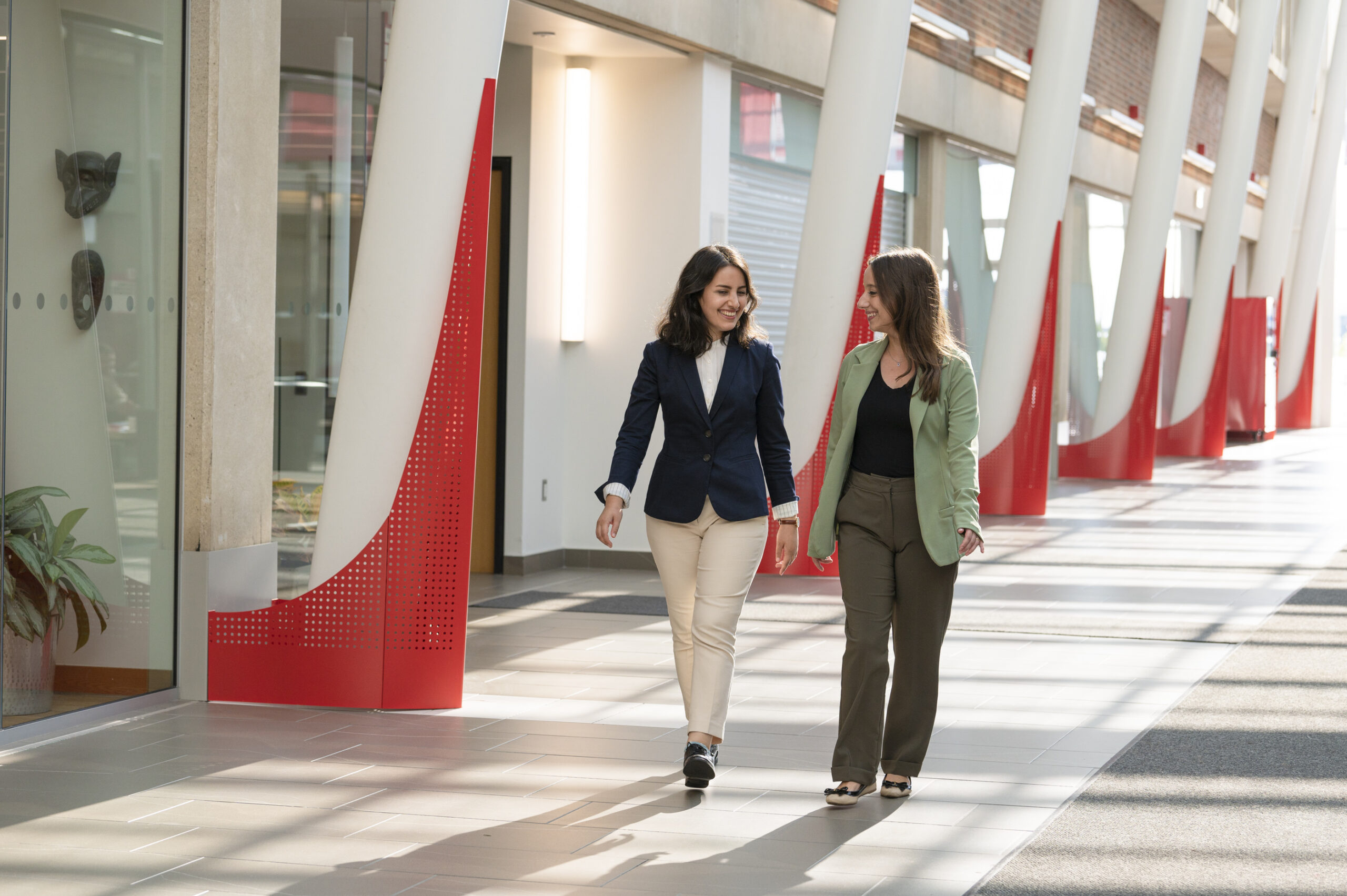 This Fall, Osgoode Professional Development welcomes more than 130 students from 23 different countries to our full-time programs in Canadian Common Law, International Business Law, General Law, and Taxation Law programs.
Full-time students recently attended orientation – our first in-person orientation since 2019! "Being able to welcome our new students back in person, including celebrating our inaugural award winners was a fitting way to kick off the momentous year", says Meghan Thomas, Director, Professional Graduate and International Programs. This year also marks the ten-year anniversary of the LLM in Canadian Common Law.
Celebration and growth were a theme of this year's orientation event, with Dean Mary Condon, Professor Jinyan Li, and OsgoodePD's Executive Director & Assistant Dean Victoria Watkins all remarking on the strength of this year's incoming class. The diversity and professional experience of our student body is a key feature of the program, as our seminar-style classes allow for rich discussions about the law from around the world.
The Fall 2022 class brings a wealth of professional experience – 51% of incoming students have more than 5 years of practice experience (with 21% of those having 10 years of practice experience). We have students who have worked in their country's highest courts, students who manage successful private practices, and students who head up divisions of multinational firms. The incoming class also brings credentials from top law schools from across the world, with nearly half of the incoming class having graduate degrees.
OsgoodePD Entrance Award Winners
The overall strength of the incoming class made the process of selecting the recipients of our inaugural batch of OsgoodePD Entrance Awards an incredibly difficult task. We'll be profiling our award winners throughout the year, speaking with them about the experiences that led them to the program and their experiences in the program itself. However, we'd like to start off the series by giving you quick introductions to a few of the award winners:
Munmun Saha
Program: LLM in Canadian Common Law
Munmun Saha joins Osgoode from Bangladesh where she works in the Parliamentary and Legislative Division of the Ministry of Law, Justice, and Parliamentary Affairs. As part of her work, she is tasked with comparative legal research, looking at laws and legal systems from around the world to help members of parliament make informed decisions when creating new laws. In the past, her passion for legal research led her to spend time as a law lecturer at Northern University Bangladesh, and at the University of Illinois at Urbana-Champaign where she completed an LLM. She was drawn to Osgoode both for the opportunity to study Canada's legal system, and to join an intellectual community and learn from fellow students from all over the world.
Juan Diaz Garcia
Program: LLM in Taxation Law
Juan Diaz Garcia is an international taxation lawyer with more than ten years of practice experience. He's worked as a tax attorney and government advisor in Colombia at the Directorate of National Taxes and Customs. He has also worked in corporate tax, advising multinational companies on a variety of matters related to taxation law and policy. Juan brings a wealth of knowledge to the program, from both his professional and his academic experience. He has an LLM in International Taxation from the University of Florida Levin College of Law and two graduate certificates, one in Tax Law and one in Customs and Trade Law, from the Universidad Externado de Colombia.
Fadahunsi Temitope
Program: LLM in General Law
Fadahunsi Temitope was called to the bar in Nigeria in 2011 and has accomplished a great deal in his career. In addition to heading up his own firm, Fadahunsi serves as a Senior Special Adviser to Members of Parliament at the Lagos State House of Assembly. He's authored several books which have contributed to the legal literature on Nigeria, and helped to draft a bill that later became the Child Rights Law of Lagos State in 2015. He was drawn to the LLM in General Law for the opportunity to study Health Law and Privacy & Cybersecurity Law. Upon completion of his degree, he intends to make Health Law a spinalization within his firm, with the aim to draft private bills to address the challenges faced by the Nigerian healthcare sector.
A big welcome to the new students and congratulations to the OsgoodePD entrance award winners!
Want to learn more about our full-time offerings? Visit our information sessions page and choose the on demand session that best fits your background and interests.